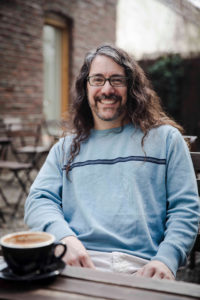 Award-winning picture book author Adam Lehrhaupt writes about chickens, words, animals and more. So where does he come up with these stories? Enquiring minds — us — wanted to know…
Booking Biz: What does your average day look like?
Adam: Well, on a typical day, I get up at 6:30, wake the kids, and head down to the office. After putting on some coffee, I sit down at my desk to answer emails, respond to social media, and generally wander around the internet. I'll even put in some time working on my website or preparing new school presentations.
Once the kids are off to school, I get down to the real work…catching up on last night's TV.
Just kidding. After they leave, if I don't have a Skype or school visit, I head over to my sofa and read.
I try to read every day. For at least an hour. Sometimes much longer. And I read everything. Picture books. Chapter books. Adult books. Magazines. Anything that might help me come up with an idea. Or spark some creativity.
After that, I move back to the desk to do some writing. Some days I work on edits. Others I start something new. But I typically write for a few hours each day.
Then the kids get back home and it's time to help with homework.
Once homework is done, everyone piles in the car and we zip over to the rink for hockey practices. We spend a LOT of time at hockey rinks. I know…why haven't I written a hockey book? Good question. I probably should. Let me know if you've got a good idea for one.
After hockey, it's back home to get everyone ready for bed. Then I reward myself with a little TV, or another book. Depending on how the day went.
The next day, I get up and do it all again.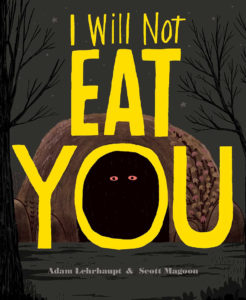 Booking Biz: When you're not writing, what do you like to do best?
Adam: Ooh, this is a tough one. I enjoy so many things. Work wise, my favorite thing to do is visit schools. I get so much energy from the students! It gets me completely jazzed up and ready to write. I've come up with some of my best ideas after a visit.
Not work related, I'd have to say watching or playing hockey. I've only been playing for 10 years, about as long as my oldest son. But I really enjoy the game. It's great fun to play, but also one of the best games to watch.
Booking Biz: Where do you get the inspiration for your books?
Adam: WOW! That's a tough one. I get my ideas from all different places. Here's a couple of examples:
I WILL NOT EAT YOU came to me during a long car ride. It was six hours. The kids sitting in the back. Punching each other. Screaming. Making a TON of noise.
All I wanted was some quiet.
And that's when the idea came to me. What if there was a big, scary creature who desperately wanted it to be quiet? How would this creature react if animals kept bothering it with constant noise? Would it eat them?
For THIS IS A GOOD STORY, I was playing around with the idea of what things a story needs to be considered a 'good story'. I came up with a pretty good list: a protagonist, maybe an antagonist, a setting, a little conflict to create plot, a big climax, and a satisfying ending. Then I challenged myself to write a book telling the reader how to use all of those things to write their own good story.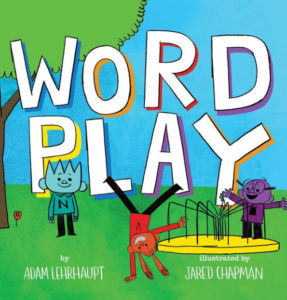 With WORDPLAY, I was literally playing with words. I was playing with the idea of a character, Noun, who could BE anything he wanted. But he couldn't DO anything. Then, I introduced Verb. And Verb couldn't BE anything. But she could DO anything. The problem was, Verb really wanted to BE the center of attention.
I had SO much fun working on this story. I'm still amazed at what came from me just playing around with a few nouns and verbs.
Booking Biz: Did you always want to write books for children, or was there another career you wished for as a child?
Adam: I never really tried to push myself towards one thing or another. I love, LOVE what I do, but I have had some other pretty cool careers. I was a roadie for rock bands. I worked with David Copperfield. I even performed on Broadway. I guess I've been like the feather from Forrest Gump. I float where the winds take me and do my best to enjoy the ride.
All of that said, I couldn't be happier with how things have turned out. I mean, I write books for children.
Seriously. That's pretty cool.
Booking Biz: If you ruled the world, what would it look like?
Adam: If I ruled the world…
• Everyone would be able to eat their favorite foods, anytime they wanted, with no consequences.
• Kindness would be a necessity, not just a virtue.
• Evil would be eradicated.
• Books would be available to anyone, anywhere, whenever they needed one.
• TV and device use would be regulated based on societal contributions. Contribute more to gain more usage.
• I would be able to draw.
• And every Friday we'd all get pie.
If you wanted pie.
I wouldn't force pie on anyone. But if you don't like pie, any pie, you may want to reevaluate whether you want to be in a world ruled by me. I'm sure there are other worlds. You know what? I'd make another world just for no pie people. So they'd have a special place too. OK. Enough about pie.
Thanks for taking the time to hear what I have to say. Have a great day and dare to be creative!
Booking Biz: Mmmm. Pie! Thank you, Adam.