By Carmen Oliver
I hear over and over how the school visits I've been a part of have benefited both students and teachers. They are the bridges that help children connect with books, the world and each other. Children see that reading is cool. It gives them a magic that has the power to carry them to their dreams.
Here are some of the favorite benefits I've seen and heard of from some of my favorite people—librarians.
Students Feel Empowered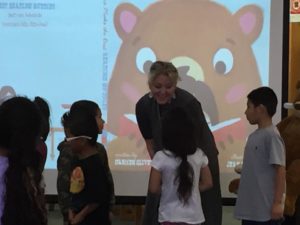 When I was growing up, I had parents that read to me a lot. They told me that I could do anything that I set my mind to. They reinforced that message every time they read me THE LITTLE ENGINE THAT COULD by Watty Piper and lead me to believe that with hard work, I could make my dreams come true. When I now stand in front of students as an author, I'm saddened to hear that many of them have never been told they can achieve their dreams. But after hearing from me, they go home believing they can. Meeting authors who were once kids in a classroom with big dreams like them is just one of the benefits of school visits for students.
Students Read More
"When an author visits my school, his/her books stay checked out for the rest of the year!" says librarian Jennifer Lewis. "The biggest benefit to author visits is that students read more!" More reading leads to stronger reading skills, but also more confidence in children, builds vocabulary, and promotes intelligence and creativity, according to Gemm Learning. Even better for teachers and librarians, reading leads to better concentration and discipline for children, according to Early Moments, and this helps them do better in school—not just in reading and writing, but in all subjects, says Best Books for Kids.
Knowing these benefits, Lewis schedules multiple author visits each school year. She says students remember everything the authors say in their presentation long after they're gone and the connections that are made last for years.
Teachers Model Good Habits
"Author visits encourage teachers to read more children's literature and talk about it with students," Lewis says. When schools in Lewis' district book presentations from a visiting author the teachers read the author's books in preparation and in doing so model their own reading habits for students.
Free Curriculum Materials
Authors know how their books align with curriculums and design their presentations and materials around those topics. Some authors bring handouts and exercises that can be used long after the author visit is over.
Many of these materials are also available in the educational guides created for the books. These guides give teachers ready-made materials they can use in their classrooms. The guides are free and downloadable from either the publisher's or author's website.
Both fiction and nonfiction books can help teachers with their curriculums. The guide for author Greg Leitich Smith's middle grade time-travel novel BORROWED TIME, for example, includes fun, printable games that teach children about dinosaurs, differences in historical time periods and character point of view.
The guides can be used by themselves, but when combined with a presentation from the actual author, the learning experience is heightened through the author's passion and intimate knowledge of the subject. It's an experience children never forget.
Students are Inspired and Impacted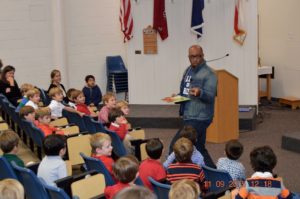 Indeed… "authors bring their writing to life," says librarian Cindy Von Oehsen. "They all have different personalities but it doesn't matter, what matters is a students' physical interaction and experience of the person and the work…That's where the magic happens."
Von Oehsen recalls watching a student recite a Kwame Alexander poem to the author when he visited their school. The student received a high-five and a hug from this new hero. Another time, boys from the varsity basketball team signed up for that year's Poetry Out Loud competition after being inspired by the visiting author.
Van Oehsen can never predict which students will race into the library to get their books signed by the author or which parent will email her saying their child now wants to be a writer after hearing the presentation. The one thing she does know is that the students' lives are touched in unpredictable ways. "It happens every single time," she says. "Author visits are priceless."