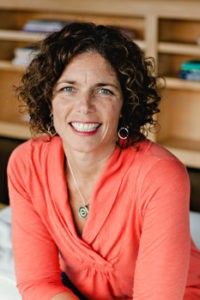 Liz Garton Scanlon is the author of numerous beloved books for young people, including the highly acclaimed, Caldecott-honored picture book ALL THE WORLD, illustrated by Marla Frazee, and Liz's debut novel for middle grade readers, THE GREAT GOOD SUMMER. Other popular picture books include IN THE CANYON, THE GOOD PIE PARTY, NOODLE & LOU, and several others.
Liz is also a poet, a teacher and a frequent and popular presenter at schools, libraries and conferences. She grew up in Colorado and Wisconsin, and now lives with her husband and two daughters in Austin, Texas.
Liz is regarded as a dynamic and motivational keynote speaker and workshop presenter. Her writing workshops equip writers with the necessary tools to raise their writing to the next level. Her popular school presentations combine readings with exposure to the writing process, from idea-making, through writing, revision and publication. Her connection to students as peers — as fellow writers — is most inspiring.
She is happy to present to any and all grade levels and each session will be age and curriculum-aligned as well as interactive. Liz has the utmost respect for both kids and books, and shares that enthusiastically!
Website
Availability and Honorariums
$1500 plus expenses Keynotes
$1250 plus expenses Full-Day School Visit within Texas (4 hour-long presentations for older students, 30- to 45-minute presentations for pre-K and kinder)
$800 plus expenses Half-Day School Visit within Texas (2 hour-long presentations for older students, 30- to 45-minute presentations for pre-K and kinder)
$1500 plus expenses Full-Day School Visit outside of Texas (4 hour-long presentations for older students, 30- to 45-minute presentations for pre-K and kinder)
$300 45- to 60-minute Skype presentation
Gallery