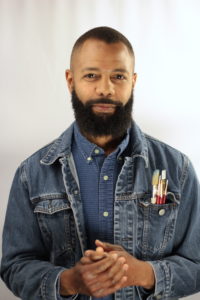 Javaka Steptoe is an artist and educator who has illustrated and/or written more than a dozen award-winning books for young readers.
Steptoe's debut picture book, In Daddy's Arms I Am Tall: African Americans Celebrating Fathers, earned him a Coretta Scott King Illustrator Award, in addition to a nomination for Outstanding Children's Literature Work at the 1998 NAACP Image Awards. Since that time, Steptoe has collaborated with some of the top names in the business—Walter Dean Myers, Nikki Grimes, Karen English—and received numerous accolades for his illustration.
This past January, Steptoe won the 2017 Caldecott Medal for his picture book biography Radiant Child: The Story of Young Artist Jean-Michel Basquiat, more than thirty years after his father won two Caldecott Honors. The book won many other honors, too, including the 2017 Coretta Scott King Illustrator Award, and multiple starred reviews.
As a young child, Javaka Steptoe was the inspiration behind much of the artwork created by his esteemed father, the late John Steptoe. An artist/educator himself, Javaka utilizes everyday objects from aluminum plates to pocket lint, and sometimes a jigsaw and paint, to deliver reflective and thoughtful collage creations filled with vitality, playful energy and strength. Through the use of family as a recurring theme, he creates artwork that celebrates the richness of our collective past and memory.
His artistry is a reflection of his commitment to children's education. Steptoe explains, art is survival. It is ingenuity, critical thinking, and self expression. It fosters self-esteem and empathy. Javaka Steptoe travels extensively reading and conducting workshops and keynotes at festivals, schools, libraries, museums, and conferences across the country and internationally.
Javaka Steptoe visits Austin's Blanton Museum of Art. Discover how he explores the role of art in picture books with this thought provoking article in PW's Shelftalker with BookPeople's Meghan Dietsche Goel. Radiant Child author/illustrator Steptoe said, "Great art creates places for people to enter into it."
Website
Availability and Honorariums
Please contact Carmen Oliver for rate information and availability.
Videos