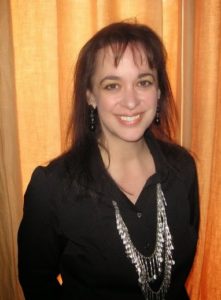 Cynthia Leitich Smith is the critically acclaimed, New York Times and Publishers Weekly best-selling author of the Feral series, which includes Feral Nights, Feral Curse and Feral Pride, as well as the Tantalize series, which includes Tantalize, Eternal, Blessed and Diabolical. Two graphic novels, Tantalize: Kieren's Story and Eternal: Zachary's Story, both illustrated by Ming Doyle, complete the Tantalize series. These adventure-fantasies are originally published by Candlewick Press in the U.S., Walker Books in the U.K. and Australia/New Zealand, and additional publishers around the globe. The series are often noted for their diverse protagonists, humor, social conscience and compelling action.
Cynthia is also the author of several award-winning children's books, including Jingle Dancer, illustrated by Cornelius Van Wright and Ying-Hwa Hu; Rain Is Not My Indian Name and Indian Shoes, illustrated by Jim Madsen; all published by HarperCollins.
Cynthia was named a Writer of the Year by Wordcraft Circle of Native Writers and Storytellers in recognition of Rain is Not My Indian Name. She is an enrolled tribal member of the Muscogee (Creek) Nation and serves on the advisory board of the We Need Diverse Books nonprofit organization. She has been twice featured at the National Book Festival. Her titles have been honored among Notable Children's Trade Books in Social Studies, Oklahoma Book Award finalists, NEA Choices, CCBC Choices, Bank Street Choices, Children's Crown List selections, YALSA Popular Paperbacks, and more.
Of late, she was named the first Spirit of Texas Young Adult author by the Young Adult Round Table of the Texas Library Association and the first young adult author to be honored with the Illumine Award by the Austin Public Library Friends Foundation.
Cynthia is a popular writing teacher, serving on the faculty of the Vermont College of Fine Arts MFA program in Writing for Children and Young Adults, and leading workshops hosted, for example, by SCBWI chapters, the Highlights Foundation, Writing and Illustrating for Young Readers and A Room of Her Own.
She graduated with degrees in news/editorial and public relations from the White School of Journalism at the University of Kansas, Lawrence in 1990 and from the University of Michigan Law School in 1994. At Michigan Law School, she was senior editor of The Michigan Journal of Gender & Law. Cynthia also studied abroad in Paris, France during the summer of 1991 via Tulane University Law School and the University of Paris IV.
Her website at www.cynthialeitichsmith.com was named one of the top 10 Writer Sites on the Internet by Writer's Digest and an ALA Great Website for Kids. Her Cynsations blog at cynthialeitichsmith.blogspot.com was listed as among the top two read by the children's/YA publishing community in the SCBWI "To Market" column. School Library Journal said of Cynsations, "If you read only one blog, this is it!" Cynthia makes her home in south-central Austin.
Website
Availability and Honorariums
$2000 Keynotes/Conferences and Workshops
$2000 Full-day School Visits with $500 of honorarium going for books in classrooms and library
$1250 Teen Writing Workshops thru schools
$500 Library & Community Events in-state