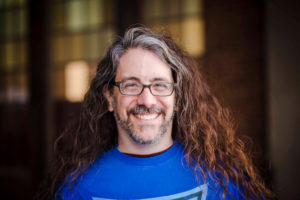 Adam Lehrhaupt is the award-winning picture book author of Warning: Do Not Open This Book! (S&S, 2013), Please: Open This Book! (S&S, 2015),Chicken in Space  (a six-book HarperCollins series continuing with Chicken in School on June 20, 2017), and I Will Not Eat You (S&S, 2016), as well as the upcoming I Don't Draw, I Color (S&S, 2017), Wordplay (Scholastic, July 25, 2017), This is a Good Story (S&S, Sept. 12, 2017), Idea Jar (S&S, Spring 2018) and several more he is not yet at liberty to discuss. Among the awards his titles have won are the E.B. White Read-Aloud Honor, the Wanda Gag Read-Aloud Award and the Hudson Readers Thumbs Up Award. His books have also been honored among ALA notable books, Huffington Post notable books, CCBC Choices, Bank Street Choices, Ontario Library Association 'Best Bets' and more.
Adam has traveled to six continents, performed on Broadway, and lived on a communal farm. Adam firmly believes that opening a book is a good thing, even if there are monkeys in it. He currently lives in the suburbs of Philadelphia, PA, with his wife, two sons, and two bizarre dogs.
Librarians have praised Adam's programs as entertaining, educational and enthralling. He's even been dubbed a school visit 'rockstar'. His presentations are interactive experiences designed to jumpstart the creative process and provide tools for achieving success.
Adam also speaks at professional conferences, book festivals, and writing workshops. Follow Adam on Twitter or Instagram @Lehrhaupt and on Facebook @AdamLehrhaupt for the occasional brilliant thought or picture.
SCHOOL VISIT PROGRAMS
Imagination – Explores how we use our imagination to create stories, including exercises that allow our imagination to run wild and games showing how to turn our new ideas into entertaining stories.
Character – Uses popular book and film characters to discuss who a character is, what they want, and what they need. Games and exercises are introduced to create several new characters and demonstrate how to build from wants/needs to a compelling narrative.
Parts of Speech – Utilizes wordplay and stories to provide a better understanding of the parts of speech and how we use them to create entertaining stories, including how the parts of speech became real children in Wordplay.
Building a Good Story – Illustrates how to create an interesting narrative by identifying and exploring protagonists, antagonists, plot, setting and climax while building a new story together.
Create Your Own – Work with Adam to customize a presentation to meet the needs of your students or organization.
TESTIMONIALS
"I've been doing this for 30 years and Adam gave one of the best assemblies I've ever seen. He had a great command of his audience." — Grade Teacher St. Patrick Catholic School, Malvern, PA
"Adam is a rock star here at school now! All the ES kids are talking about him and his books. They are still so excited." — Technology Integrationist, International School, Dongguan, China
"Adam was wonderful answering the kids questions and included a great message behind his presentation. We really enjoyed having him join us and hopefully can have him back sometime soon." — Teacher Librarian, George Washington Carver Elementary
Website
Availability and Honorariums
Please contact Carmen Oliver for rate information and availability.