If you weren't at the Texas Library Association convention in San Antonio, you missed quite a book celebration. And our clients were among the hits.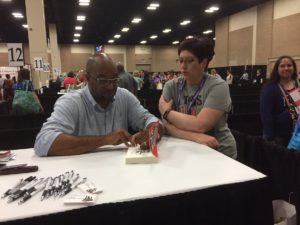 The signing line for Kwame Alexander was neverending, as he read from his new book SOLO, which was co-written by Mary Rand Hess. Kwame also signed copies of THE PLAYBOOK: 52 RULES TO AIM, SHOOT AND SCORE IN THIS GAME CALLED LIFE, to which he contributed.
Don Tate signed copies of his latest non-fiction picture book biography, STRONG AS SANDOW: HOW EUGEN SANDOW BECAME THE STRONGEST MAN ON EARTH.
Celebrating other middle-grade novels were Elana K. Arnold, signing her latest A BOY CALLED BAT, and K.A. Holt, who shared poetry excerpts from her older novel-in-verse HOUSE ARREST and signed her upcoming fantasy GNOME-A-GEDDON.
And in picture books, Liz Garton Scanlon and Audrey Vernick presented and signed copies of their new humorous BOB, NOT BOB! *TO BE READ AS THOUGH YOU HAVE THE WORST COLD EVER.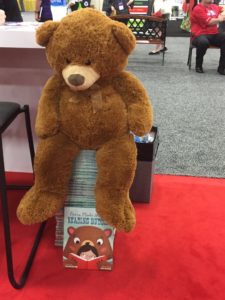 Other clients signed books that are already on shelves. These included:
Carmen Oliver and her picture book BEARS MAKE THE BEST READING BUDDIES
Bethany Hegedus and Evan Turk for their picture book biography BE THE CHANGE: A GRANDFATHER GANDHI STORY
Javaka Steptoe for his picture book RADIANT CHILD: THE STORY OF YOUNG ARTIST JEAN-MICHEL BASQUIAT
P.J. Hoover and her middle-grade novel TUT: MY EPIC LIFE TO SAVE THE WORLD
and Evan Turk, who attended the Bluebonnet Speed Dating session and signed 200 copies of his debut picture book as an author/illustrator, THE STORYTELLER.
We're looking forward to the 2018 Texas Library Association convention. See you next year!