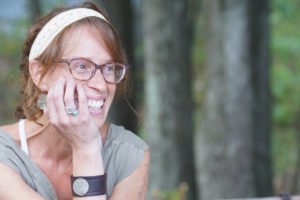 Tamara Ellis Smith is an author for young readers, and her debut middle grade novel, Another Kind of Hurricane, was published by Schwartz & Wade/Random House in 2015.
Tamara works with the Vermont College of Fine Arts Young Writers Network (VCFA YWN) as both a liaison for their Northern New England region and a teaching artist. The VCFA YNW's mission is to help raise a diverse next generation of writers by creating a national mentoring network that inspires young writers—particularly those underserved and underrepresented—to discover their unique voices, develop their craft, and explore future careers in writing.
As a teaching artist and public speaker, Tamara is passionate about nurturing kids' personal narratives—she believes that this is critical for both them and for the world! She is also deeply committed to turning empathy into action, and offers a program and project connected with Another Kind of Hurricane that focus on community service, bridging diverse populations and making connections.
Another Kind of Hurricane was a Summer 2015 Kids Indies Next List pick, a 2015 Indies Introduces Top Ten Pick, one of Bank Street's Best Books of the Year, an SCBWI Crystal Kite Award finalist, and a Vermont Book Award finalist.
Tamara is currently working on picture books and another middle-grade novel. She lives in Vermont with her four kids and husband and loves to run on the river trails with her dog.
Click here to watch a video of Tamara speaking to children at the Richmond Elementary School in Richmond, VT. Thank you to Grade 4 Teacher Katie LeFrancois for creating the wonderful video.
Thank you [Tamara Ellis Smith] for encouraging educators to value community service projects that teach our kids what it means to think critically, problem solve, and demonstrate compassion for students from all walks of life.
Website
Availability and Honorariums
Gallery