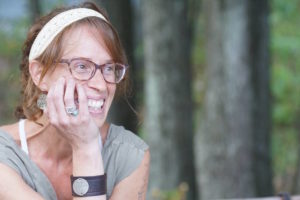 Tamara Ellis Smith is an author for young readers, and her debut middle grade novel, Another Kind of Hurricane, was published by Schwartz & Wade/Random House in 2015.
Tamara works with the Vermont College of Fine Arts Young Writers Network (VCFA YWN) as both a liaison for their Northern New England region and a teaching artist. The VCFA YNW's mission is to help raise a diverse next generation of writers by creating a national mentoring network that inspires young writers—particularly those underserved and underrepresented—to discover their unique voices, develop their craft, and explore future careers in writing.
As a teaching artist and public speaker, Tamara is passionate about nurturing kids' personal narratives—she believes that this is critical for both them and for the world! She is also deeply committed to turning empathy into action, and offers a program and project connected with Another Kind of Hurricane that focus on community service, bridging diverse populations and making connections.
Another Kind of Hurricane was a Summer 2015 Kids Indies Next List pick, a 2015 Indies Introduces Top Ten Pick, one of Bank Street's Best Books of the Year, an SCBWI Crystal Kite Award finalist, and a Vermont Book Award finalist.
The book has sparked two projects that are dear to Tamara's heart: The Another Kind of Hurricane Service Learning Project and the Blue Jeans Drive. The Service Learning Project seeks to turn empathy into the power to help and connect. In the Blue Jeans Drive, builds community-to-community connections through drives that benefit those in need. Learn more here.
Tamara is currently working on picture books and another middle-grade novel. She lives in Vermont with her four kids and husband and loves to run on the river trails with her dog.
Click here to watch a video of Tamara speaking to children at the Richmond Elementary School in Richmond, VT. Thank you to Grade 4 Teacher Katie LeFrancois for creating the wonderful video. And watch this fun book review video by Ben Rankin, one of Katie LeFrancois' students.
Thank you [Tamara Ellis Smith] for encouraging educators to value community service projects that teach our kids what it means to think critically, problem solve, and demonstrate compassion for students from all walks of life.
PRESENTATIONS
Perseverance workshop (Tam's journey writing Another Kind of Hurricane):
An interactive Power Point presentation, this workshop takes kids through Tamara's process of becoming a writer and Another Kind of Hurricane's journey from idea to published book. Tamara focuses on four foundational characteristics that she believes are essential for succeeding long-term at anything you want to accomplish—passion, grit, self-discipline and curiosity—and she talks with the kids about how to access them in their own lives. She also explores the ways in which community—friends, family, teachers and mentors—is an integral part of the process of accomplishing goals. Ideal grades: 4-8
Magic Marble workshop:
For the three 10-year-old boys in Tamara's middle-grade novel Another Kind of Hurricane, the marble that passes between them is imbued with luck and magic. For Henry it stands for all that is left of his friendship with Wayne. For Zavion, who has lost everything, the marble is something concrete to hold, to own, to build upon. The marble also brings Henry and Zavion together to connect and, ultimately, heal. It is also a symbol of the boys' perseverance. In this hands-on art workshop, Tamara engages kids in her Magic Marble art project, which is a spin-off from the novel. They first generate words that describe their passions, grit, self-discipline, and curiosity. Each of these words are—literally and symbolically—glued together with Community to make Perseverance. That exploration in words and ideas is collaged inside a plastic ball to create a personal Magic Marble. Tamara reads excerpts from some of the magic marble sections of her novel during the workshop. Ideal grades: 4-8
Mapping Our Lives workshop:
In this hands-on writing workshop, Tamara engages kids in a series of writing exercises aimed at creatively mapping their lives (focusing on landscape and landmarks that are meaningful to them), then finding defining (ie: important, affirming, grounding) moments, memories and details from which to build stories about themselves. Part of the workshop is collaborative and part is individual. All of the workshop is meant to celebrate who we all are. Ideal grades: 4-8
Stepping into Our Shoes (and Yours too!) workshop:
In this hands-on writing workshop, Tamara engages kids in a series of writing exercises aimed at exploring who they are then exploring who their classmates are. First kids use their actual shoes in this workshop, defining them in concrete and poetic terms and then write guided poetry; then they use their classmates shoes, defining them in the same ways and write guided poetry again. Finally, the kids create a collaborative poem, using what they have written. Building both self-esteem and empathy are the ultimate goals in this workshop. Ideal grades: 4-8
Praise for Tamara's books and presentations from kid readers
I'm so lucky, I have your book at my house! I don't want to finish it it's so good! —4th grader
Thank you so much, Tam, for taking time out of your day to teach our class how to express ourselves on paper. I will really use what you taught us when I'm writing any time. —7th grader
Website
Availability and Honorariums
Gallery