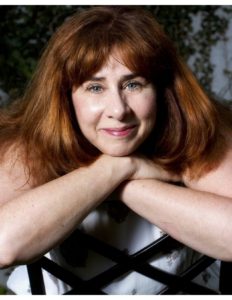 Sarah Aronson began writing for kids and teens when someone in an exercise class dared her to try. Since then, she has earned an MFA in Writing for Children and Young Adults from Vermont College of Fine Arts, and published three novels: HEAD CASE, BEYOND LUCKY, and BELIEVE.
Forthcoming titles include her first nonfiction picture book, JUST LIKE RUBE GOLDBERG (Beach Lane Books) and a new young middle-grade series about the worst fairy godmother ever, THE WISH LIST (Scholastic, 2017).
When Sarah is not writing or reading (or cooking or riding her bike), she is talking to readers about creativity, writing, and of course, sparkle power!
She loves working with other writers in one of her classes at Writers on the Net (www.writers.com) or the amazing Highlights Foundation. Sarah is also the cofounder and organizer of the Writing Novels for Young People Retreat at VCFA, now approaching its fifteenth year. She has served as an SCBWI mentor in both Illinois and Michigan. She overuses exclamation points. When she's excited, she talks with her hands.
WORKSHOPS
Here's a sample of things Sarah likes to do with readers:
Be A Fairy Godmother! Together, let's talk about the power of wishes and all the different ways that we can make others happily ever after! Sarah will lead a fun session that includes writing and action—to help each other make a stronger world.
So you want to be a writer: In this class or multi-class presentation, Sarah will talk about her life as a writer and give a candid look inside the creative process from inspiration to draft, to revisions, rejections, and finally publication.
Story Soup: In this hands-on workshop, students will create their own stories based on prompts and ideas we come up with together!
Website
Availability and Honorariums
$600 Half-Day School Visit (1-2 presentations) within the Chicago area
$1,200 Full-Day School Visit (up to 4 presentations) within the local Chicago
$1,200 keynote presentation
Skype visits
For out of state visits, please include travel.
Gallery