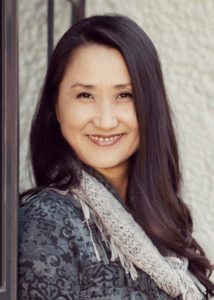 Salina Yoon is the author and illustrator of over 160 books for children. As the Kohl's Cares featured author for summer 2016, seven of her books (nearly 1 million units) and four plush animals based on her characters were sold nationwide in Kohl's stores.
Salina is the author and illustrator of the six-book Penguin picture book series that begins with PENGUIN AND PINECONE; the creator of the picture book series featuring Bear, that includes FOUND, STORMY NIGHT, and BEAR'S BIG DAY (Bloomsbury); and the early reader series beginning with DUCK DUCK PORCUPINE (Bloomsbury).
Her books have been the recipients of numerous awards and honors, including the 2015 SCIBA Award and 2015 Nottingham Children's Book Award for FOUND; the 2014 New York State Reading Association Charlotte Award and Lori Bresnahan Award for PENGUIN AND PINECONE; the Bank Street Best Children's Books of the Year list for PENGUIN ON VACATION; 2013 First Place Book of the 27th Annual NY Book Show, Book Industry Guild of NY for KALEIDOSCOPE (Little, Brown 2012); Best Board Book 2013 by Parents Magazine for PINWHEEL (Little, Brown 2013); the 2012 Bank Street College of Education's Best Books of the Year (with Outstanding Merit) for ONE, TWO, BUCKLE MY SHOE: A COUNTING NURSERY RHYME (Random House 2011) and 2009 Oppenheim Toy Portfolio Gold Seal Best Book Award for both TOYS and ROCK & ROLL COLORS (Scholastic); and 2009 finalist for the CBC's Children's Choice Book Awards for K-2nd Best Book of the Year for OPPOSNAKES (S&S).
Salina was also honored with a Proclamation by the City of San Diego on Sept. 23, 2014, which was declared "Salina Yoon Day" for her extensive contribution to children's literature.
TESTIMONIAL
"I'm writing to share my thoughts about Salina Yoon's recent school visit and festival participation at The Harbor Springs Festival of the Book in Harbor Springs, Michigan. I can't say enough about how wonderful our time with Salina was both professionally and personally. She was kind, enthusiastic, warm, and a pleasure to get to know. Her school visit, in particular, was beyond what I could have hoped for. She engaged a room full of first graders in her stories, teaching them about art and visual literacy in a way that was exceptional and engaging. Within seconds, they were all smiling, leaning forward, raising hands, and eager to hear more. Teachers followed up with me to tell me how much they valued her time and talent in working with young students. We are thankful for the time she spent in our schools and community!" – Andrea Donahoe, School Visit Coordinator, Harbor Springs Festival of the Book
"Thank you (Salina Yoon) so much for spending time with AOB and the students at Whetstone. Your presentations were excellent. They were pitch perfect for the children and involved them so beautifully. Please come back anytime." Founding Director, Dara La Porte, An Open Book Foundation
"The children were so engaged and responsive. … One little boy, just 4½, probably [with] Asperger's, connected with Dennis (mime character) like it was his own story and could talk of nothing else.  [Salina Yoon] really touched him and made a difference in his life! That is what I live for with author visits." —Kris Williams, Pilgrim School, California
"I just have to share how much I enjoyed Salina's visit . . . she is truly a treasure. I can't tell you enough how much I appreciated sharing her insight, her expertise, and her passion with our teachers during the professional development session. Not only did she share some valuable information in regards to the importance of early literacy, but she also led the teachers through a read aloud of her book Penguin and Pinecone that modeled ways for teachers to deepen the literary experiences of our students. The impact of her visit will be felt for years to come!"—Lynn Kleinmeyer, Teacher Librarian, Titan Hill, Iowa
Website
Availability and Honorariums
$800 per day for local San Diego visits (2-3 presentations)
$1,000 per day for Los Angeles, Orange County, and Riverside (no hotel/transportation necessary)
$2,000 a day, plus transportation costs and lodging for out of California or 120 miles beyond San Diego (negotiable, if multiple days)
Videos