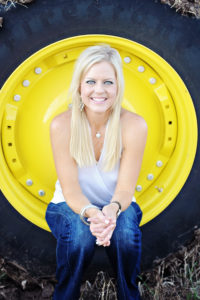 Rebecca Crownover is a farmer by profession, an Amazon Best Seller, an award-winning children's book author, and founder of the brand and children's book series Texas Farm Girl. She uses her life experiences to inspire children and their parents through her writing. She has been profiled in National Farming Magazines and many other media outlets from Texas to Los Angeles, CA.  She has also been featured on William Shatner's National TV program, Moving America Forward where she received the prestigious "Moving America Forward" Award, by Retired Rear Admiral Kevin F. Delaney for her entrepreneurship in the industry.
Based on the author's true story of losing her husband and daughter's father in an ATV accident, My Daddy in Heaven is the award-winning book about a little girl's loss of a loved one and how she finds hope for the future through her tragedy. Texas Farm Girl and Amazon Best Seller Texas Farm Girl: Reap What You Sow engage and educate children about farming and the important life lessons that come from every day life.
Rebecca entertains through school visits, library events, children's organizations like Girl Scouts, 4-H, and FFA, and women's events.
Website
Availability and Honorariums
$750 Full day in-state
$1200 Full day out-of-state
$200 1 hr Skype session (add on sessions please inquire)
Videos