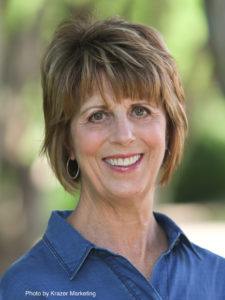 Penny Parker Klostermann is the author of the award-winning There Was an Old Dragon Who Swallowed a Knight (Random House Children's Books, 2015) and the upcoming A Cooked-Up Fairy Tale (Random House Children's Books, 2017). She loves all kinds of books, but especially loves very silly picture books that make her laugh. She has been known to hug her favorite picture books and seriously hopes that someday her books will gain huggable status too.
Penny's presentations are engaging, entertaining, and educational. Her presentations include audience participation. As she shares her creative process and her path to publication, she emphasizes that writing is rewriting and that reading books is an important part of being a good writer.
Penny grew up in Colorado and now lives in Abilene, Texas-the Storybook Capital of Texas!
PRESENTATIONS
From Idea to Publication (K-2nd)
Penny Parker Klosterman shares her love of books by telling children how she gets her ideas. Students will learn about her writing process and the publication process. Penny invites students to participate in a reading and help generate a new story with her.
Imagination: Keep It With You (3rd-5th)
Penny Parker Klosterman shares the importance of imagination in her writing life and encourages students to continue to imagine possibilities in whatever they do. She discusses the writing process as it applies to writers of all ages with a focus on revision and the power of words.
Website
Availability and Honorariums
$800 Full day in-state
$1200 Full day out-of-state
$350 One session within 30 miles of Abilene, TX
$450 Two sessions within 60 miles of Abilene, TX