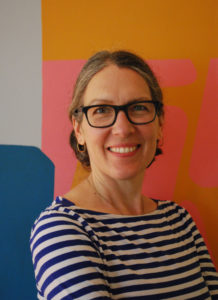 Molly B. Burnham is the author of the Teddy Mars Series and 2016 recipient of the Society of Children's Book Writers & Illustrators' Sid Fleishman Humor Award. She grew up in Washington DC in a family of writers.
She studied theater in London, England, and holds a Masters in Elementary Ed. and an MFA in Writing for Children. She taught kindergarten, third grade, and at a school for emotionally challenged middle- and high-school-aged students.
Molly lives in Northampton, Mass., with her husband, two daughters, a dog and a cat and next door to pigeons, but sadly not next to Grumpy Pigeon Man. She really likes pie, both to eat and throw.
PRESENTATIONS
The Power of Wondering: A Waste of Time or a Writer's Tool?
(Large group presentation, ideal for grades K-7th)
Wondering is an essential state of being whether you want to be a writer or a plumber. It is through the ability to wonder that we solve problems, have an imagination, and are critical thinkers. This interactive, highly visual presentation takes students through Molly's own wondering process, as it is the beginning of all her writing. Through wondering, she created Teddy Mars. Through wondering she added layers of meaning to her books. Through wondering she connects to her characters. This presentation includes tidbits about Molly, The Guinness Book of World Records, a little archeology (a 75,000-year-old rock), a bit about the illustrator's process, a short Q&A, and of course, PIGEONS! Most importantly, through this presentation, Molly expresses her hope that students' wondering will lead them throughout their lives no matter what they choose to do.
Same and Different: Character Building
(Writing Workshop, ideal for grades K-2nd)
Authors draw from real life and their imaginations when creating characters. In "Same and Different," Molly shares with students a bit about herself, then tells them about Teddy Mars and who he is. Through discussion, students compare and contrast what is the same and what is different about Teddy and Molly, and touch upon what characters want. Depending on the size of the group, individual writing exercises are incorporated for students to make up a character (through drawing or words) that is the same as them and also different from them. For larger groups, Molly works with students to create a group character that is in some ways the same as us and in some ways different from us.
Creating Stories
(Writing Workshop, ideal for grades 3rd-8th)
In this fast-paced workshop, Molly uses improv techniques like list-making, and responding quickly to prompts to show how stories are created. Moving through character, setting, and problems, Molly demonstrates how writers make choices, and how writing can be playful and fun.
The Anatomy of a Giggle: Humor and Writing Funny
(Writing Workshop, ideal for adult writers)
Often times people think they are funny or not funny. Molly believes that like any other aspect of the writing craft, being funny just takes practice. In this hands-on workshop, Molly encourages students to set judgments aside and instead explore their funny bones. She discusses various forms of humor, key points to writing funny, and engages in exercises that encourage the playful and humorous side of people's brains. By bringing an open mind, a pad of paper, and their joyful selves, students leave this presentation with a fresh approach to humor.
Mindfulness for Writers: Acceptance and Attention
(Interactive Workshop, ideal for adult writers)
The ability to focus on the moment at hand, to set aside all the many distractions and distractors, is the key to getting writing done. This is easier said than done. Our brains zing with thoughts and our emotions bounce around like a rubber ball. All of which means we are less attentive to our own writing and our own journey as writers. As an elementary school teacher, a writer, and obviously a human being, mindfulness has been an on-going part of Molly's life for more than sixteen years, and her mindfulness work has always been an anchor for her.
During this interactive workshop, participants engage in a conversation with Molly about what mindfulness is and how mindfulness supports every facet of our writing life, from the craft of writing to the very essence of being a writer. Participants will share their own experiences of being mindful and of not being mindful, and what happens in those two very different states. Molly will introduce a number of mindfulness exercises from improv to breathing to writing. Participants will leave this workshop with a toolbox full of strategies to support their mindful practice.
Improv Out
(Writing Workshop with authors Lisa Papademetriou and Heidi Haas,
ideal for grades 3rd-6th)
"Improv Out" is a workshop series that utilizes theater games and writing to teach elements of writing. These interactive workshops will focus on four main parts of the writing process: character, setting, conflict/emotion, and revision.
Website
Availability and Honorariums