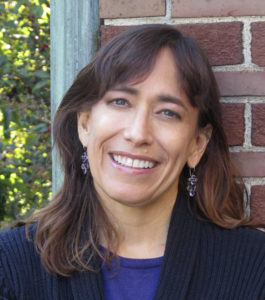 Miriam Busch is an award-winning author of picture books, early readers, and middle grade through young adult fiction and non-fiction. She holds an MFA in Writing for Children and Young Adults from Hamline University, and was awarded the JRT Critical Writing prize for Shut Up: Power and Silence in Middle Grade and Young Adult Fiction, as well as Kate DiCamillo's Herman W. Block Award for Nessa and the Horrid Witches.
A versatile writer, teacher, and workshop leader, Miriam engages students from kindergarten through graduate school. Miriam's dedication to story inspires students – even those who think they don't like to write!
Miriam (occasionally together with illustrator Larry Day) leads dynamic, participatory classroom discussions and workshops on everything from wordless picture books to young adult graphic novels. Presentations include: reading as writer/writing as reader, visual literacy, point of view, specificity of word choice, revision, and the writing process. Miriam is happy to tailor presentations to address particular curricular goals.
PRESENTATIONS WITH LARRY DAY ON THE CREATIVE PROCESS

For pre K-K (30-45 minutes): The presentation begins with a participatory reading of Lion, Lion. Then Miriam Busch and Larry Day discuss misunderstandings, invite discussion of various ways to interpret the illustrations, share a few story secrets, and cover some publishing terms.
Miriam and Larry demonstrate the process of creating a picture book: from the very first scribbles of an idea through revisions to the published book. If time allows, they create a brand new story as a group, complete with Larry drawing it out as they go (he's VERY fast — kids LOVE this). If more time allows, they also give the classes a sneak-peak of pre-published stories.
Grades K–5 (45-60 minutes): Where do Miriam Busch's and Larry Day's ideas come from? Whether you are a writer or an illustrator (or even if you can't stand to read) everyone is a storyteller in his or her own way.  How do we connect our own lives with our characters' struggles? How can we think of revision in a new, positive way? Students have a blast with dynamic verbs (!), story structure, and lively collaborative storytelling.
Grades 6-12 (45-60 minutes): What choices do we make as storytellers to most effectively tell our stories? No matter whether we are writing fiction or non-, graphic novels or poetry, we can sharpen our skills and deepen our writing. From point of view to word choice to revision (revision, revision!), Miriam Busch and Larry Day cover new ways of approaching our work, including how to give and receive feedback.
Website
Availability and Honorariums