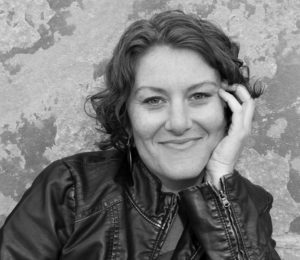 Melanie Crowder is the award-winning author of several books for young readers, including Audacity, A Nearer Moon, Parched, An Uninterrupted View of the Sky and Three Pennies. The author holds an M.F.A. in Writing from Vermont College of Fine Arts and lives in Colorado's Front Range, where she has worked as an educator and advocate for at-risk youth for more than a decade.
Melanie's books have been recognized as a National Jewish Book Awards Finalist, Bulletin Blue Ribbon, Junior Library Guild selection, YALSA Top Ten Books For Young Adults, ILA Notable Book for a Global Society, CBC Notable Social Studies Trade Book for Young People, Colorado Book Award Finalist, Parents' Choice Silver Medal, BookBrowse Editor's Choice, BookPage Top Pick, and The Washington Post Best Children's Books for April.
Her work has been listed as Best Books of the Year by Bank Street College, Kirkus Reviews, The Amelia Bloomer List, New York Public Library, Tablet Magazine, A Mighty Girl, and The Children's Book Review.  Melanie is the recipient of the Arnold Adoff Award for New Voices in Poetry, the Society of Children's Book Writers and Illustrators Crystal Kite Award and the Jefferson Cup. Her books have also found a place on state reading lists in New York, Illinois and Pennsylvania.
Presentations
IT ALL BEGINS WITH AN IDEA… (Grades 3-8)
Ever wondered how authors think up their stories, and how those ideas are transformed into the books in your classroom library? In this engaging and interactive presentation, Melanie Crowder will give students an image and insight-rich glimpse into her process for transforming an idea from concept to story to publication.
BORROWING FROM POETRY (Grades 3-8)
All writers play with sound—rhyme, cacophony, rhythm—and no one more than the poets! In this writing workshop, Melanie Crowder will guide students through writing exercises to bring out the poet in each of us, and to borrow from poetry in order to transform our prose.
AUDACITY: A CLOSER LOOK (Grades 6-12)
This presentation offers a behind-the-scenes look at the astonishing person and the complex history that inspired Melanie Crowder's book AUDACITY, a National Jewish Book Award Finalist. The author will invite students to join her as she recounts the journey from drafting, research, interviews, and revisions to the finished book.
WITH THE PAST BEFORE THEM (Grades 6-12)
In researching her fourth book, AN UNINTERRUPTED VIEW OF THE SKY, award-winning author Melanie Crowder studied the rich culture and traditions of the Andean Aymara people who, rather than viewing the past as behind them and the future before them, take the opposite perspective. This inspiring presentation is an exploration of historical fiction's capacity to bring the past to the forefront, so that we can better confront our collective future.
WRITING WORKSHOPS, INTENSIVES AND RESIDENCIES (Adults)

Melanie is available to present as a keynote and panelist at conferences. She also teaches writing workshops and residencies on the topics of setting, emotion, the nuanced antagonist, writing novels in verse, and structuring a novel. Contact Sarah Azibo to design a program to suit the needs of your unique community.
Melanie Crowder's class was outstanding! In fact, a couple of attendees told me it was probably the best writing workshop they've ever taken! In addition to being a great writer, Melanie is a great instructor; professional, articulate, creative, helpful, thorough, and engaging. I'd love to work with her any time!
Website
Availability and Honorariums
Please contact Sarah Azibo for rate information and availability.