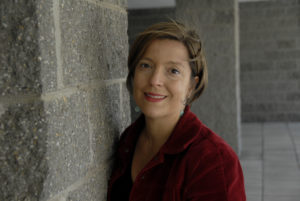 Lisa Papademetriou is an author, educator, and editor with a secret identity: Grammar Diva Ivana Correctya (IvanaCorrectya.com).
As an editor, Lisa has worked for Scholastic, Daniel Weiss Associates (now Alloy), HarperCollins, and Disney Press. Lisa has written many books for middle-grade readers, including the Accidentally Fabulous series and the Confectionately Yours series, and she has co-authored two books with James Patterson, Homeroom Diaries and Middle School: Big, Fat Liar (a New York Times bestseller). She has also written several books for young adults, including M or F? (in print for over 10 years!). Her latest novel, A Tale of Highly Unusual Magic (HarperCollins), was named a Highly Commended title by the South Asia Book Award and hailed by TIME for Kids as "a perfect 10." Her next book, Apartment 1986, is slated for publication in April 2017.
While working on her MFA at Vermont College of Fine Arts, Lisa founded the humorous online grammar magazine IvanaCorrectya.com. She is currently on the faculty of the MFA program at Sierra Nevada College. She enjoys giving presentations and workshops across the country, but—like Superman and Clark Kent—you will never see her and Ivana Correctya in the same room at the same time.
PRESENTATIONS
Large Group Presentations for Grades 4-6
Lift Up Your Voice!
This interactive presentation explores the ways in which writers use punctuation, rhythm, syntax, and slang to create memorable voices for their characters. Lisa Papademetriou uses popular music, her own work, and examples from beloved stories to inspire students to convey emotional moments and their unique selves on the page. Concludes with a 10-minute Q&A.
How to Have an Idea
Inspired by the question she hears most often ("Where do you get your ideas?"), Lisa Papademetriou has put together a fun, funny presentation that shows how characters, situations, problems, and plots hide in plain sight. Then, using visual prompts, she helps students tell a collaborative story. Concludes with a 10-minute Q&A.
It's Good to Be Bad
The first step to being good at anything is to be terrible at it. This presentation is about failure, and how many of the most beloved authors and artists of all time had to keep working to succeed at their craft. With examples from her own work, Lisa Papademetriou pulls back the curtain on her own process and shows that mistakes and bad writing are an essential part of good stories.  Concludes with a 10-minute Q&A.
Get Grammarous! (As Ivana Correctya, Grammar Diva)
Ivana Correctya—Grammaristan's #1 Diva and star of IvanaCorrectya.com—does not believe in grammar police… but she does believe in maximum sentences. With quirky humor and vocabulous style, Ivana explains what grammar is, relates the reasons we use Standard American English, and clears up some of the most confusing rules with interactive quizzes and group games. Great fun!
Classroom Workshops for Grades 4-6
Crafting Characters
This generative workshop will have students create personalities and memories for characters of their own creation. Lisa Papademetriou gives each student a visual prompt to guide his or her work and provides questions to show how a character is the sum of their experiences and characteristics. (Limit: one class of 25 to 30 students to provide the greatest benefit.)
Feel the Beat
This workshop helps writers understand how rhythms evoke emotional responses in a reader. Pauses, punctuation, and even sentence length can make a scene exciting, scary, or even sad. Lisa Papademetriou compares examples from popular novels, poems, and stories and compares them to reggae, salsa, funk, and pop music to show how our inner ear is always working, even when we're reading words on a page. (Limit: one class of 25 to 30 students to provide the greatest benefit.)
Telling Scary Stories
Spooky tales are exciting to read and fun to write. In her hilarious—and sometimes hair-raising—presentation, Lisa Papademetriou shows writers how to establish an eerie mood, spin a spine-chilling setting, and convey a complex creepy villain. Multimedia sounds and images will inspire a fun writing frightfest. (Limit: one class of 25 to 30 students to provide the greatest benefit.)
Website
Availability and Honorariums
$1,500 per day (up to four sessions)
$1,500 for Ivana Correctya (two sessions)
$350 for 60-minute Skype session
Videos