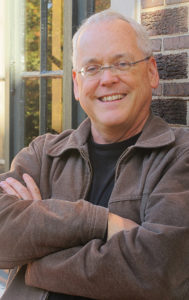 Larry Day is the award-winning illustrator of both fiction and non-fiction. His 2014 release: Lion Lion, by Miriam Busch, Balzer & Bray (NPR's Best Books For 2014, an Illinois Reads Selection For 2015, an Indie Bound Next List and Junior Library Guild Selection). Their second picture book for Balzer & Bray, Raisin, The Littlest Cow is scheduled for 2017. Day's January 2016 release, Nice Work, Franklin!, a picture book about FDR, is his third by Suzanne Tripp Jurmain for Dial. Larry is currently working on a graphic novel and a non-fiction picture book, Voices of the Underground Railroad, his third by Kay Winters, Dial, 2017.
Day also illustrated, Not Afraid Of Dogs, winner of the 2006 Golden Kite Award; Colonial Voices, Hear Them Speak winner of 7 state awards, and Voices From The Oregon Trail both by Kay Winters. He has illustrated, Duel! Alexander Hamilton and Aaron Burr's Deadly War Of Words, which received a Hornbook starred review, and Let It Begin Here! First Battles of the American Revolution, both by Dennis Fradin. Additional publications include: George Did It! and Worst of Friends! by Suzanne Tripp Jurmain, Bye-Bye, Baby by Richard Morris, Nanook & Pryce by Ned Crowley, and Civil War Drummer Boy by Verla Kay.
Larry Day was born and raised in Gibson City, Illinois, a rural farming community where he flunked high school Art. He received an Associate's Degree in commercial art, worked as a staff artist for pinball and video games before becoming a storyboard artist and picture book illustrator. He lives in Oak Park, Illinois with his wife, and picture book author, Miriam Busch.
Larry (occasionally with Miriam Busch) is available for presentations and workshops on the art of illustration.
PRESENTATIONS WITH MIRIAM BUSCH ON THE CREATIVE PROCESS

For pre K-K (30-45 minutes): The presentation begins with a participatory reading of Lion, Lion. Then Larry Day and Miriam Busch discuss misunderstandings, invite discussion of various ways to interpret the illustrations, share a few story secrets, and cover some publishing terms.
Larry and Miriam demonstrate the process of creating a picture book: from the very first scribbles of an idea through revisions to the published book. If time allows, they create a brand new story as a group, complete with Larry drawing it out as they go (he's VERY fast — kids LOVE this). If more time allows, they also give the classes a sneak-peak of pre-published stories.
Grades K–5 (45-60 minutes): Where do Larry Day's and Miriam Busch's ideas come from? Whether you are a writer or an illustrator (or even if you can't stand to read) everyone is a storyteller in his or her own way.  How do we connect our own lives with our characters' struggles? How can we think of revision in a new, positive way? Students have a blast with dynamic verbs (!), story structure, and lively collaborative storytelling.
Grades 6-12 (45-60 minutes): What choices do we make as storytellers to most effectively tell our stories? No matter whether we are writing fiction or non-, graphic novels or poetry, we can sharpen our skills and deepen our writing. From point of view to word choice to revision (revision, revision!), Larry Day and Miriam Busch cover new ways of approaching our work, including how to give and receive feedback.
Website
Availability and Honorariums