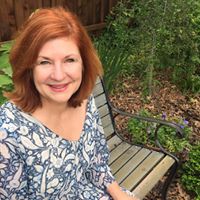 More than twenty-years ago, Kimberly Willis Holt stopped talking about wanting to be a writer and started to pursue her dream. She didn't own a computer so she wrote her first book on a yellow legal pad, sitting at a card table on her screened porch. She finished the rough draft of her first book in nine days. Then she learned that writing is rewriting, investing three and half years in the revision.
Finally after seventeen rejections, her first book, MY LOUISIANA SKY was published. It won a Boston Globe Hornbook Honor and later became a movie that won several Emmy awards. Her third book, WHEN ZACHARY BEAVER CAME TO TOWN won the National Book Award for Young People's Literature. Many of her other books have won awards and honors, placing on many state lists.
Because of her family's Louisiana roots, Kimberly considers herself a southerner. But her father's military career took her to places beyond the South, including Paris and Guam. She's lived most of her adult life in Texas. Her stories reflect these places in their settings.
When Kimberly isn't writing or gardening, she visits schools, speaking to students about the writing process with an emphasis on rewriting. She also enjoys conducting writing workshops and helping reluctant writers find joy in the process. Kimberly believes anyone can learn to write and credits teachers and other writers for helping her learn the craft. "I'm still learning," she says, "and I hope I always am."
Website
Availability and Honorariums
Please contact Carmen Oliver for rate information and availability.