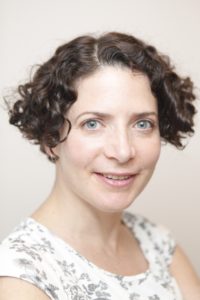 Erica S. Perl is the author of popular and critically acclaimed books for young readers.
Her middle grade novels include When Life Gives You O.J., which earned a Sydney Taylor Notable Award, was an ALA Notable Book, and is on multiple state book award lists.
Her newest novel is The Capybara Conspiracy: A Novel in Three Acts, which boasts an innovative script format.
Erica also writes picture books, including Chicken Butt!, Goatilocks and the Three Bears, and Ferocious Fluffity.
She is a crowd-pleasing presenter at schools, libraries and community events, and she enjoys working with reluctant readers and writers as much as she enjoys working with accelerated ones.
Erica honed her skills working as a trial lawyer in New York City, and also worked for many years for First Book (www.firstbook.org), the ground-breaking national organization that provides books to programs and schools serving children in need.
Raised in Vermont, she now lives in Washington, D.C. with her husband, two daughters, and two dogs.
PRESENTATIONS FOR CHILDREN
Write Like a Dog (Presentation – Pre-K, K, 1st)
Erica's dog Lucy likes to chew on pencils… and gobble down ideas! Using kid-friendly (and animal-centric) descriptions, Erica outlines the steps in a writer's journey from inspiration to finished project. This presentation includes a read-aloud from one of her popular picture books, such as FEROCIOUS FLUFFITY. She even makes time for "hamster dancing" to shake the sillies out while reviewing the book's narrative arc.
Rhyme Time! (Workshop – PreK, K, 1st)
Erica uses her rhyming book CHICKEN BUTT! to demonstrate what a rhyme is, why meter matters, and how students can create their own rhyming books. While reading aloud, she guides students to collaboratively brainstorm a list of additional rhymes, which they then use to assemble, illustrate and "publish" as a class.
 Chocolate Chip Cookie Writing (Presentation – Grades 1, 2)
Lots of kids describe fiction as "not real." Erica demonstrates how she mixes emotional truths into her work – like the chocolate chips that make cookies so tasty. Using one of her delicious picture books, such as DOTTY, Erica shares the recipe for a writer's journey from inspiration to "fully baked" project, including ingredients like show-don't-tell and using the five senses to impart details.
Fractured Fairy Tales (1 hour Workshop – Grades 1, 2, 3)
Using GOATILOCKS AND THE THREE BEARS as a model, Erica leads a workshop in brainstorming, writing, editing, and polishing fractured fairy tales. After working collaboratively, students will have the opportunity to create unique fractured fairy tales, which can be illustrated, shared, and "published."
Travelogues & Practice Dogs: Writing is a Journey (Presentation – Grades 2, 3, 4, 5)
Everyone has to start somewhere, and so do stories. Using her award-winning book WHEN LIFE GIVES YOU O.J., Erica shares her writing journey from her childhood dreams of having dogs and writing books to her current reality, which involves both. Along the way, she introduces students to the many peoples (and animals!) who inspired the book and invites students to debate the many roads one of her characters could walk down.
Practice Pets on Parade! (Can be done as 1 or 1.5 hour Workshop – Grades 2, 3, 4, 5)
Using recycled materials as simple as plastic water bottles (or as extensive as a school would like to provide!) and craft supplies, Erica provides a hands-on workshop in making "practice pets" based on her award-winning book WHEN LIFE GIVES YOU O.J. She then leads a collaborative writing exercise to demonstrate ways to write meaningful and memorable prose from the perspective of an inanimate object. The finale? A one-of-a-kind "practice-pet" show.
Of Giant Hamsters and Hamilton (presentation – Grades 5, 6, 7, 8)
Sometimes writers get stuck… really stuck. Students peek behind-the-scenes at the process of writing and rewriting THE CAPYBARA CONSPIRACY: A NOVEL IN THREE ACTS in this presentation. Erica talks candidly about her big case of writer's block and how she got some unexpected help from her hero, Lin-Manuel Miranda, to whom the novel is dedicated. Students also have the opportunity to explore the differences between telling a story through a straight narrative and a play and can participate in a scene from the book.
Ways of Telling (Can be done as a 1, 1.5, or 2 hour Workshop – Grades 5, 6, 7, 8)
Erica introduces this dramatic writing workshop by demonstrating a variety of ways she has told stories – in poetry, play, or prose forms – and discussing the wide diversity that exists in story forms. She then leads the group in a series of theater and improvisational exercises to guide them toward story development, first without words and building up to written expression. At the end of the workshop, the students perform the piece they have created together.
PROFESSIONAL CONFERENCES and EDUCATOR OUTREACH
In addition to her workshops about writing and the creative process for kids, Erica has led a variety of programs for adults. She has experience teaching writing, lecturing, and leading workshops for educators, librarians, parents, caregivers and community volunteers on the fundamental importance of access to books, creating a book culture, reading aloud, and engaging struggling and reluctant readers.
Whether talking with writers and educators or mixed audiences of adults and kids, Erica is equally comfortable serving as a panelist, speaker, keynote, and mentor. She is always happy to tailor her presentation to meet your needs.
Here is a selection of talks Erica has given…
FOR WRITERS AND AUTHORS:
Discoverable Me: Innovative Ways to Attract Spotlights for Your Books
Frog and Toad Used to Be Friends: Depicting Friendship in Children's Literature
Making Middle Grade Magic: A Writing Workshop for Adults
New Author's Boot Camp
Social Media for Authors: Do's and Don'ts
To Quit, or Not To Quit (Your Day Job)?
How to Make a Successful Author Visit – In Person and Virtual
FOR EDUCATORS AND LIBRARIANS:
Women Aren't Funny (And Other Essential Untruths For Middle Grade Readers)
Engaging and Immersive Story Times
Extension Activities – Yours, Mine & Ours
5-6-7-8-Write! Using Performance Techniques to Inspire Young Writers
Fractured Fairy Tales: A Workshop
Jump Up and Read With Me: Active Story Time
Working Together: Collaborative Writing Workshops
Rhyming Books: The What, How and When for "Read it Again!"
FOR COMMUNITY AND PARENTING GROUPS:
A Picture is Worth Everything: Using Picture Books to Engage Pre-Literacy Skills
Creating a Book Culture in Your Home
The Importance of Reading Together
Lap Time! Book in Hand, Child in Lap, Conversation in Progress
Parent & Child Workshops, including Make Your Own Book
Seriously Silly: The Value of Using Humor to Bond over Books
Website
Availability and Honorariums