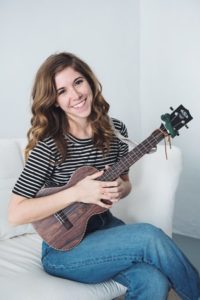 Emily Arrow (and her ukulele Bow) creates literature-inspired music and media for children, cultivating an appreciation for literacy. Collaborating with best-selling picture book creators, Emily creates the best in children's media.
Now based in Nashville, TN, Emily performs around the country to inspire listeners to sing, read, and celebrate books. She's a winner of the John Lennon Songwriting Contest, National Parenting Products Award, and Parents' Choice Gold Award.
Emily is a graduate of Berklee College of Music in Boston and earned her graduate-level teaching certification in Orff-Shulwerk Levels I & II. Following her studies, Emily became a K-6 music teacher at a performing-arts-based private elementary school in Los Angeles. During her time teaching, she found that her passion was collaborating with the library, art, and technology departments. This path led her to her current career as a kidlit singer/songwriter!
I am so thankful to Emily Arrow for filling my library with music and dance. She truly gives books a voice!
Website
Availability and Honorariums