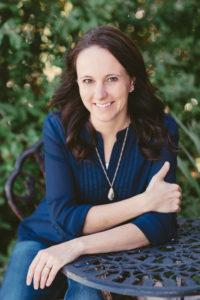 Elaine Vickers is the author of middle-grade novels Like Magic (one of Barnes and Noble's Ten Notable Middle Grade Novels of 2016) and Paper Chains.
One of the things she loves most about being an author is connecting with kids, teachers, and librarians–through school visits as well as through books! As a teacher for twelve years (and counting), Elaine is comfortable with kindergarten through college-aged groups. She is currently a university chemistry professor who is more than happy to sneak science and other curriculum into presentations.
Elaine always wanted to be a writer and a teacher, except when she wanted to be an architect, an artist, a pediatrician, a judge, or an Olympic figure skater. She lives in southern Utah with her husband and three kids.
PRESENTATION DESCRIPTIONS
The Power of Art to Connect Us (Ideal for grades K-8th)
In this presentation, Elaine Vickers uses the music, paintings, and poems from Like Magic to illustrate the power of art to connect people—to each other, and to the world around them. Students participate to create on-the-spot poetry, music, and art, and Elaine discusses the connections people form as a result.
An Author's Journey: Turning Ideas into Stories into Real Books (Ideal for grades 4th-9th)
How do you take that idea in your brain and turn it into an actual story? How do you turn that story into a book that people can read? In this presentation, Elaine Vickers takes students along her journey from a kid with ideas to a published author and answers many common questions along the way. Highlights include the need for hard work, perseverance, creativity, and passion in whatever you're pursuing.
The Biggest Summer/Year of Your Life (Ideal for grades K-8th)
Especially fitting for the end of the calendar or school year, this presentation is designed around the idea that the summer can be the biggest year of a student's life (so far). Through three interactive challenges, Elaine Vickers will help students paint their own mental picture about what "the biggest summer of my life" might mean for them this year—and how they can make it happen.
Understanding Fear (Ideal for grades 3rd-8th)
Like Magic includes this quote from Marie Curie: "Nothing in life is to be feared, it is only to be understood." In this empathy-building presentation, Elaine Vickers takes characters from a variety of books (and volunteers from the audience) and shows how often the things we fear about each other and the world around us are often dissipated by knowledge and empathy.
Grow Your Story (workshop only)
This workshop helps students recognize the story ideas all around. Each student will take their story seeds and choose one to develop, whether they're starting with a character, a theme, or an overall concept. Students will turn that seed into the framework for a whole novel by organically drawing out the elements in their initial idea.
Custom Presentation or Workshop: Any of the above presentations can be tailored to an individual school or range of grade levels. In addition, Elaine Vickers will work with teachers and librarians to craft a workshop and/or presentation that fits into the current curriculum. Custom events can include topics in language arts, math, music, and/or science.
Website
Availability and Honorariums