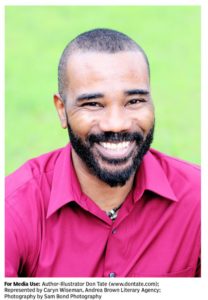 Don Tate is an award-winning author, and the illustrator of numerous critically acclaimed books for children, including Whoosh! Lonnie Johnson's Super-Soaking Stream of Inventions, (Charlesbridge); The Amazing Age of John Roy Lynch (Eerdmans), The Cart That Carried Martin, (Charlesbridge); Hope's Gift, (Penguin); Duke Ellington's Nutcracker Suite, (Charlesbridge); She Loved Baseball (HarperCollins); and Ron's Big Mission, (Penguin). He is also the author of Poet: The Remarkable Story of George Moses Horton (Peachtree), an Ezra Jack Keats New Writer winner, It Jes' Happened: When Bill Traylor Started to Draw (Lee & Low Books), an Ezra Jack Keats New Writer Honor winner, and Strong As Sandow: How Eugen Sandow Became The Strongest Man on Earth (Aug, 2017).
Librarians have praised his program as lively, interactive, educational — fun! His heart goes into his presentations. He approaches the content of his presentations from both an illustrator's and author's perspective, and he offers a solid integration of the Common Core Curriculum Anchor Standards for reading, writing, and speaking & listening, all of which are annotated, and aligned.
Don also speaks at professional conferences, book festivals, and writing workshops.
Website
Availability and Honorariums
$2000 Full day in-state (negotiable)
$2500 Full day out-of-state (negotiable)
Conferences/Keynotes/Workshops Contact Carmen Oliver for rates
Videos