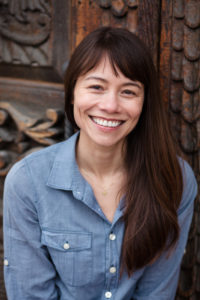 Christina Soontornvat is an author, educator, and writing instructor who is passionate about inspiring children of all ages to develop a lifelong love of reading.
Her middle grade fantasy novel THE CHANGELINGS debuted in September 2016, and was named an ABC Best Book for Young Readers by the American Booksellers Association. School Library Journal called THE CHANGELINGS a "well-paced novel full of likable characters."
Christina's picture book THE RAMBLE SHAMBLE CHILDREN is forthcoming from Nancy Paulsen Books/Penguin in 2018 and will be illustrated by Caldecott Honoree Lauren Castillo.
Christina is also a STEM Educator, who travels the country consulting on increasing student engagement in the sciences. She has a decade of experience in the museum education field and holds an M.S. in Science Education from the University of Texas at Austin.
Her presentations are interactive and fun and combine her strong STEM background with her experiences as a fiction writer. She lives in Austin, Texas, with her husband and two young daughters.
REVIEWS for THE CHANGELINGS (Jabberwocky/Sourcebooks, 2016)
"A fantasy adventure with likable characters (and detestable ones), plenty of action, a bit of danger, and a happy ending. Incorporating a few elements of the Pied Piper legend, Soontornvat emphasizes the importance of family, whether it's the one you're born into, the one you find yourself in, or the one you create for yourself" —Booklist
"This well-paced novel full of likable characters will attract fantasy lovers, especially those interested in fairies. Readers will enjoy the balance among action scenes, quieter periods of character interaction, and rich descriptions of Faerie…The concept of the Changelings—and why they're important to keeping Faerie and Earth connected—is explained in bits with an enticing air of mystery that will keep readers engaged, and an additional final surprise puts the remaining pieces in place." —School Library Journal
"The plot is fast paced with intervals of vivid description…an engaging story with unusual twists and a thought-provoking conclusion." —School Library Connection
LISTS:
ABC Best Books for Young Readers 2016, American Booksellers Association
Author photo: Cathlin McCullough Photography
PRESENTATIONS:
School Visits
During my visit with your students, I will draw on my experiences as an engineer, a first-generation American, a fairytale fan, and an indoor skydiver. Oh yes, it all relates to writing! After our time together, your students will view themselves as the heroes of their own stories and know that anything is possible if they keep working towards their goals.
During my talk we will:
Have a contest for the longest last name (sorry, but I usually win this one!)
Talk about why writing is a lot like engineering
Learn that the human brain evolved to listen to stories
Claim a true and remarkable character trait for ourselves
Talk about rejection and perseverance (I'll share some of my juiciest rejection letters!)
Grant Writing Workshops for Teachers/Librarians
Before I became an author, I spent a decade working for museums, where I wrote and co-wrote grants that secured hundreds of thousands of dollars in funding. I know first-hand that grant writing is something all educators have to do, whether they have the training or not. One of the biggest secrets I learned is that the most important thing to accomplish in any grant proposal is to tell an engaging story.
During this fun and fast-paced workshop, I integrate fiction-writing techniques with grant writing basics. I have presented this session at teacher conferences and it has been standing room only! I will help you build the tools to get the funds you need.
Website
Availability and Honorariums
$600 Half-day (2 presentations) in Austin and surrounding areas
$900 Full-day (3 presentations) in Austin and surrounding areas
$800 Half-day (2 presentations) plus travel and expenses outside of Austin and surrounding areas
$1200 Full-day (3 presentations) plus travel and expenses outside of Austin and surrounding areas
$1500 Grant-writing program, plus travel and expenses