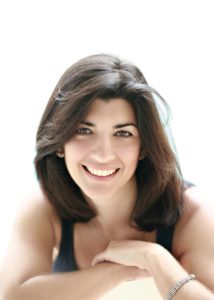 Christina Diaz Gonzalez is the award-winning author of The Red Umbrella, A Thunderous Whisper, Moving Target/Return Fire series, and an upcoming book in the Spirit Animals: Fall of the Beasts series.
Her books have been featured on multiple state reading lists and have received numerous honors, including the American Library Association's Best Fiction for Young Adults and the International Literacy Association's Teacher's Choice Award.
Publications such as Publisher's Weekly, The Miami Herald, School Library Journal, and The Washington Post have called her novels engrossing, compelling, and inspirational.
Christina is a dynamic speaker who loves connecting with students, teachers, librarians and writers. During her presentations she shares her path to writing, the importance of following your dreams, and the empowering feeling of recognizing that we are all the heroes of our own lives.
Christina currently lives in Miami, Florida, with her husband, sons, and a dog that can open doors.
TITLE AWARDS, STATE LISTS and LANGUAGES
The Red Umbrella (published in English and Spanish)
American Library Association Best Fiction for Young Adults
ALA Quick Pick for Reluctant Young Adult Readers
Top Ten Indie Next Book
International Reading Association – Teacher's Choice Book
CCBC Choices Book
Skipping Stones Honor Award
International Latino Book Award – Silver Medal
ALA Quick Pick for Young Adult Reluctant Readers
Florida Book Award – Gold Medal
Nebraska Book Award – Gold Medal
Oregon State Reading List
Nebraska State Reading List
Arizona State Reading List
Latina Magazine's Best Book of the Year
ABC New Voices Pick
Bank Street College of Education Best Children's Book
Christian Science Monitor's Best Children's Book
2017 YALSA Amazing Audiobook
A Thunderous Whisper
Notable Social Studies Book
International Latino Book Award – Silver Medal
Scholastic Book Fair Featured Book
Moving Target (published in English, German, and Turkish)
ALA Quick Pick for Reluctant Young Adult Readers
Scholastic Book Fair Featured Title
Texas (Lone Star) Reading List
Ohio (Buckeye) State Reading List
Maine State Reading List
Florida (Sunshine State) Reading List
Florida Book Award – Bronze
International Latino Book Award – Honorable Mention
Return Fire (published in English, German, and Turkish)
Debuted as #1 Bestseller on Amazon for Children's Hispanic Books
Florida Book Award – Silver Medal
Website
Availability and Honorariums