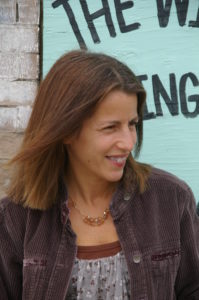 Audrey Vernick writes fiction picture books, nonfiction picture books and middle-grade novels. Her books have been published in eight languages.
A frequent speaker at schools and conferences for writers, librarians and teachers, Audrey enjoys speaking on a wide variety of topics. At elementary schools, her most popular presentation addresses where she finds ideas and leaves students with rock-solid places they can look to find their own ideas. She also covers the research she does for nonfiction books, the differences and similarities between writing fiction and nonfiction, and the publishing process. She enjoys incorporating faculty suggestions/requests into her talks when requested.
For adult audiences, Audrey enjoys speaking about her journey as a writer, the writer's craft, and collaboration (Audrey has published co-written picture books and a novel).
Her books have received numerous awards and been named to many best-of lists, including New York Times Notable Book, California Young Readers Medal, BCCB Blue Ribbon Book, Booklist Editor's Choice, Charlotte Zolotow Award for Outstanding Writing in a Picture Book (Highly Commended Title), CCBC Choices, ALA Notable Children's List, Bank Street College's Best Children's Books of the Year, Wall Street Journal Best of the Year.
A two-time fiction fellowship recipient from the NJ Arts Council, Audrey lives with her family and her happy-joy dog, Hootie, near the ocean.
PRESENTATION
Truth and Made-Up Truth
Where do authors find their ideas? How do ideas turn into stories that turn into books? Audrey Vernick's engaging, interactive presentations answer these questions and show students where they can look to find their own story ideas any time they need one. As a writer of both fiction and nonfiction, Audrey discusses the different demands for each, from meticulous research and fact-checking to the need to create what appears like truth–emotional believability–in even the most fantastic fiction.
Audrey Vernick welcomes input from schools about potential additional content to reinforce the ideas and principles teachers have been stressing in the classroom.
Website
Availability and Honorariums
Please contact Sarah Azibo for rate information and availability.