Our clients Erica S. Perl and Christina Diaz Gonzalez have covers for their newest books, or book versions, and stopped by to tell us about them.
Erica S. Perl on her THREE STOOGES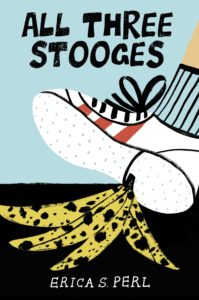 The cover of ALL THREE STOOGES was designed by the fabulous team at Knopf and the illustration was drawn by the amazing Jordan Sondler. I give them huge props because I set them up with a fairly daunting task: a book about Noah and Dash, two goofball boys who are comedy junkies (funny book) and best friends until Dash loses a parent unexpectedly to suicide (sad and serious book) and Noah makes a series of bad choices in a misguided attempt to win back his best friend. And did I mention that both boys are Jewish and all the events happen while they are preparing for their bar mitzvahs (meaningful coming of age book)? Okay, cover design: go!
The cover they came up with is, in my opinion, brilliant. It plays on the classic slapstick comedy bit of slipping on a banana, which is funny but also captures the elements of surprise and unexpected tragedy. We talked a lot during the cover design phase, because we didn't want anyone to misinterpret the book's cover as suggesting we'd put a parent's suicide in the same category as a pratfall. Ultimately, the image felt right because the protagonist in the book is Noah, who does not lose a parent. Our discussion also led to the decision to make it a bunch of bananas instead of just one. This is more accurate to Noah's situation in the book… one bad thing happens, then another, then another, and it gets harder and harder for him to be the stand-up guy that he should be.
I also love the color scheme and the fact that while the shoe suggests that the book is about a boy, it's appealing (ha! banana pun!) to all kids. And the title is eye-catching, too, whether you are a fan of the Three Stooges or not (as the back cover reveals, THIS BOOK IS NOT ABOUT THE THREE STOOGES!). The title actually comes from a line in Adam Sandler's classic Hanukkah song, referenced in the first chapter of the book, as part of the song's laundry list of people you never realized were Jewish: "Some people think that Ebeneezer Scrooge is/He's not, but guess who is? All Three Stooges!"
I hope the cover will lead to the book being grabbed off the shelf and read widely by kids and adults alike. And I hope it will lead to great conversations about all the hilarious and heartwrenching things that draw us together, pull us apart, and that help us go on no matter what. Because that's what the book is about.
Christina Diaz Gonzalez on her LA SOMBRILLA ROJA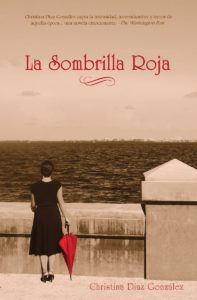 BIG NEWS: After seven years of waiting, THE RED UMBRELLA will finally be published in Spanish this fall! I am so excited to share the cover for LA SOMBRILLA ROJA!"
LA SOMBRILLA ROJA is a moving tale of a 14-year-old girl's journey from Cuba to America as part of Operation Pedro Pan—an organized exodus of more than 14,000 unaccompanied children, whose parents sent them away to escape Fidel Castro's revolution.
In 1961, two years after the Communist revolution, Lucía Álvarez still leads a carefree life, dreaming of parties and her first crush. But when the soldiers come to her sleepy Cuban town, everything begins to change. Freedoms are stripped away. Neighbors disappear. And soon, Lucía's parents make the heart-wrenching decision to send her and her little brother to the United States—on their own.
Suddenly plunked down in Nebraska with well-meaning strangers, Lucía struggles to adapt to a new country, a new language, a new way of life. But what of her old life? Will she ever see her home or her parents again? And if she does, will she still be the same girl?
THE RED UMBRELLA is a touching story of country, culture, family, and the true meaning of home.