Vampires, fairies and wizards make wonderful subjects for stories, but what about horses that can spell, bodybuilders with awesome strength or simply quiet eggs? These last three are all from nonfiction books, and while textbook reading assignments are often received with bored eye rolls by kids, nonfiction books such as these delight as much as they inform.
Reading nonfiction books has a number of benefits for kids. Education.com lists a few, saying that reading nonfiction:
Develops information literacy, which helps kids solve problems and think analytically; work in groups and independently; locate, evaluate and use information
Builds vocabulary, especially learning and understanding content-related words
Increases interest in nonfiction topics by providing information in a more interesting way than textbooks
Often pulls in reluctant readers, especially boys.
And when reading nonfiction books in classrooms is coupled with a visit by the author, the subject matter is brought even more to life.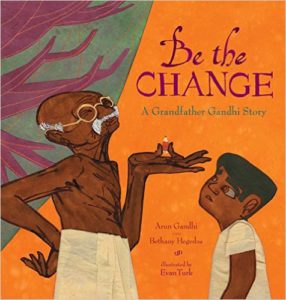 Another picture book biography author, Bethany Hegedus, discusses the life and lessons of Gandhi in the school visits she does for her GRANDFATHER GANDHI and BE THE CHANGE: A GRANDFATHER GANDHI STORY. Young students learn about India in the time of Gandhi, his ideas about peace and how they relate to kids' lives today.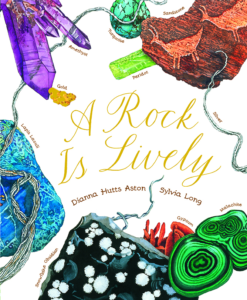 Dianna Hutts Aston teaches about nature in the school visits she presents in association with her series of books called AN EGG IS QUIET, A BEETLE IS SHY, A ROCK IS LIVELY, and others. She brings an extensive nature collection display to her presentations, which compliment STEM lessons.
The natural world is also discussed by Ammi-Joan Paquette in her "Is It Fact–Or Fiction?" author visit. Tied into her new TWO TRUTHS AND A LIE book series, the presentations cover wonders of the world as well as how to discern true facts from "fake news."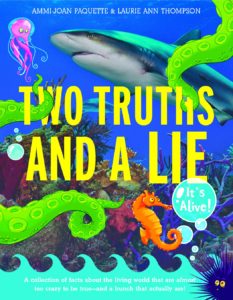 Ammi-Joan even blends the idea of fiction and nonfiction in a presentation for younger children. Inspired by her THE TIPTOE GUIDE TO TRACKING FAIRIES, the author takes small groups of kids on an interactive nature walk where they learn about the world while spying for fairie hiding places. Events like these build children's imaginations as they learn while being entertained.
When you're looking to get your students hooked on the real world, look for authors whose visits are built around nonfiction books, helping children expand their learning.