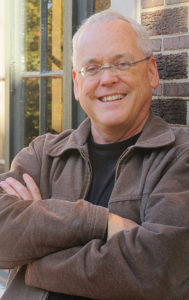 The picture books by illustrator Larry Day keep picking up award after award. Pretty impressive for a guy who flunked high school art class.
So how does he make his illustrations so great? We got to know him better.
Booking Biz: What does your average day look like?
Larry: I like to start my day off early, meditating, and a quick breakfast before heading to the gym. Once I'm back home, I settle outside on the back deck and work, keeping screens away. No computer. No phone. It's just me with paper, ink, pencils and drawing tools. That's it.
Occasionally, I'll check my texts and emails on my phone, just in case anyone in my advertising work is trying to reach me, since I also work as a storyboard artist. But I've found that any screen is too distracting and takes me out of what I'm drawing.
I usually start working somewhere between 9am and 10am, although I've been known to start at 5:30am. It all depends on the deadline ahead of me. Once I start, it's hard to stop. I just keep going. Usually though, I stop around dinner time.
I also spend time researching each historical subject I'm working on. That could be time spent looking through my own library of books and sketchbooks in addition to visiting certain libraries.
Booking Biz: When you're not illustrating, what do you like to do best?
Larry: I like to sketch people and paint outside on location. By sketching people and painting from life, I increase my level of skill.
For one thing, drawing people from life helps my visual understanding of body language. I draw people walking, sitting reading a newspaper or at a computer, listening, or just talking to one another.
For another, by painting outside in watercolor, I can see color at different times of day.
I also enjoy time gardening or bicycling to the gym, where I like to spend my time working out and staying fit.
Booking Biz: Where do you get the inspiration for your books?
Larry: For my books of fiction, like RAISIN, THE LITTLEST COW, I was inspired by a funny drawing that I had done of a cow where I used an actual raisin as a spot on it's back. I named the cow Raisin and showed it to my wife, Miriam Busch, who then wrote the story. It's nice to have an author living in the same house!
For MISSING PRUDENCE, most everything that I'm drawing is right out of my head from my own personal experience and gathered from all of those sketchbooks of drawing people and dogs. This is a book that I am collaborating with author Jeff Newman, which is to be released in 2018, for Simon & Schuster.
I've also just finished the illustrations for VOICES FROM THE UNDERGROUND RAILROAD by Kay Winters. This is a book of poems of historical fiction and our third picture book together. The inspiration from this book came from the reality of the situation of the two slaves escaping slavery and on the run and the constant fear for their lives. I was also intrigued by the challenge of illustrating a picture book that takes place mostly in the dark of night.
On a lighter note, I am illustrating a book for Jackie Briggs Martin titled BIM, BAM, BOP AND OONA. It's a delightful story about a bunch of ducks. For this, I was inspired by the British illustrator Rowland Emett. I've always loved his cartoons that he illustrated for Punch magazine and his numerous contraptions.
I'd say that the one inspiring element in my work is the cinema. I love how visual stories are told by moviemakers. I especially used cinematic inspiration for the illustrations for my picture book with Dennis Fradin, titled DUEL! BURR AND HAMILTON'S DEADLY WAR OF WORDS. In that book, as in VOICES FROM THE UNDERGROUND RAILROAD, I needed to capture the dramatic emotion that you can get from the art of moviemaking.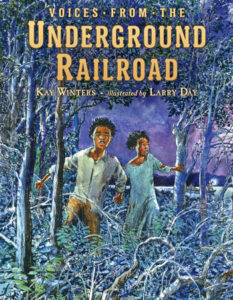 Booking Biz: Did you always want to write books for children, or was there another career you wished for as a child?
Larry: Actually, I was never a reader and I still struggle with reading. For me, there was no book that inspired me. I never thought of myself as a picture book illustrator until well after I had become a storyboard artist. Storyboarding for advertising actually helped to shape my understanding of the art and power of visual storytelling. I put two and two together and connected those skills with illustrating picture books.
Booking Biz: If you ruled the world, what would it look like?
Larry: It would look like everyone is drawing out of the lines—whether you are comfortable with drawing, or not.
Booking Biz: That sounds like a fun world to us.
Learn more about Larry Day and his books on his speaker page.