Three of our clients have new books coming to shelves soon, and we're thrilled to be able to show off their covers.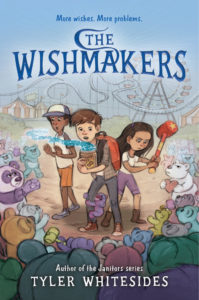 Tyler Whitesides' THE WISHMAKERS is about a boy named Ace who discovers a genie living inside his peanut butter jar. The genie gives Ace a very important quest, with just seven days to complete it. Luckily, Ace has an unlimited number of wishes to help him on his way. But every time he makes a wish, he must accept a consequence to go along with it. The ensuing adventure is full of humor, magic, and the courage it takes to make a wish.
THE WISHMAKERS is set for publication on February 27, 2018, with a sequel to follow in the fall.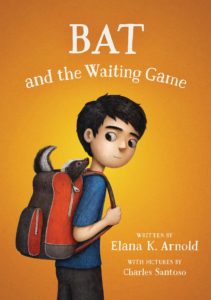 A second book about the BOY CALLED BAT is coming from Elana K. Arnold. BAT AND THE WAITING GAME arrives in March 2018. Here's what the publisher says about the book:
For Bixby Alexander Tam (nicknamed Bat), life is pretty great. He's the caretaker of the best baby skunk in the world—even Janie, his older sister, is warming up to Thor. When Janie gets a part in the school play and can't watch Bat after school, it means some pretty big changes. Someone else has to take care of the skunk kit in the afternoons, Janie is having sleepovers with new friends, and Bat wants everything to go back to normal. He just has to make it to the night of Janie's performance… Elana K. Arnold returns with another story of friendship starring an unforgettable boy called Bat.
Elana gave us her thoughts about this new novel:
"One of my favorite things about writing a second BAT book was my anticipation over seeing more artwork from Charles Santoso, who returns with me in telling Bat's story. And, oh, this cover! Sweet Bat and his skunk friend Thor look a bit older, a bit more connected, and they are on the move, as Bat is forced to make some changes in his life to accommodate his sister Janie's schedule.
"AND, even better news—there will be a third book in the series, too, so I will get to see yet another cover from Charles in the not-too-distant future. Go, Bat, go!!"
We can't wait to share these book as well. Congratulations to Tyler and Elana.