Three of our clients have new books coming to shelves soon, and we're thrilled to be able to show off their covers.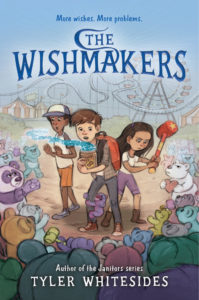 Tyler Whitesides' THE WISHMAKERS is about a boy named Ace who discovers a genie living inside his peanut butter jar. The genie gives Ace a very important quest, with just seven days to complete it. Luckily, Ace has an unlimited number of wishes to help him on his way. But every time he makes a wish, he must accept a consequence to go along with it. The ensuing adventure is full of humor, magic, and the courage it takes to make a wish.
THE WISHMAKERS is set for publication on February 27, 2018, with a sequel to follow in the fall.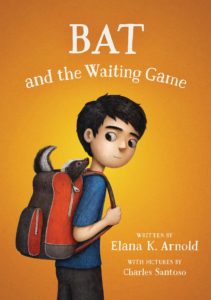 A second book about the BOY CALLED BAT is coming from Elana K. Arnold. BAT AND THE WAITING GAME arrives in March 2018. Here's what the publisher says about the book:
For Bixby Alexander Tam (nicknamed Bat), life is pretty great. He's the caretaker of the best baby skunk in the world—even Janie, his older sister, is warming up to Thor. When Janie gets a part in the school play and can't watch Bat after school, it means some pretty big changes. Someone else has to take care of the skunk kit in the afternoons, Janie is having sleepovers with new friends, and Bat wants everything to go back to normal. He just has to make it to the night of Janie's performance… Elana K. Arnold returns with another story of friendship starring an unforgettable boy called Bat.
Elana gave us her thoughts about this new novel:
"One of my favorite things about writing a second BAT book was my anticipation over seeing more artwork from Charles Santoso, who returns with me in telling Bat's story. And, oh, this cover! Sweet Bat and his skunk friend Thor look a bit older, a bit more connected, and they are on the move, as Bat is forced to make some changes in his life to accommodate his sister Janie's schedule.
"AND, even better news—there will be a third book in the series, too, so I will get to see yet another cover from Charles in the not-too-distant future. Go, Bat, go!!"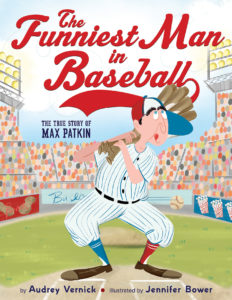 And Audrey Vernick is returning to sports books with THE FUNNIEST MAN IN BASEBALL, coming out in April. Here's what Audrey said about her history with sports books and the cover of this latest:
"I love finding baseball stories that readers haven't yet heard. SHE LOVED BASEBALL is about Negro Leagues co-owner and manager Effa Manley, the only woman ever inducted into the Baseball Hall of Fame. In my New York Times Notable Book BROTHERS AT BAT, I shared a local-to-me story about twelve baseball-playing brothers from New Jersey, honored by the Hall of Fame as the longest-playing all-brother baseball team in history (there were at least 29 others!). THE KID FROM DIAMOND STREET gave me a chance to shine a light on 10-year-old baseball phenom Edith Houghton, who played professional baseball from the age of 10.
"And now, in THE FUNNIEST MAN IN BASEBALL (out in April, in time for opening day), I am delighted to introduce young readers to Max Patkin.
"Before there were mascots in baseball parks around the country, there were baseball clowns: funny men on the field to entertain the crowds. The last and perhaps most famous of these was Max Patkin. Of course, as a little boy in Philadelphia, he didn't dream of being a clown—he wanted to be a pitcher ever since a trip to see the Phillies playing at Shibe Park. He was on his way to that dream when injuries and World War II intervened. In fact, it was during a wartime baseball game in which Max's team was playing against a team that included a player named Joe DiMaggio that Max's hilarious antics started him on the path that led to him being known as the 'clown prince of baseball.'
"Max appeals to me immensely because he's someone who did NOT achieve his dream of being a major league pitcher but still found a life for himself within the sport he loved. He was self-deprecating, funny, and immensely proud of how long and how well he did what he did.
"And what Jenn Bower achieved in this cover—conveying the goofiness and humor and vintage baseball look—I just adore it and can't wait to share the whole book with the world in April."
We can't wait to share these book as well. Congratulations to Tyler, Elana and Audrey.