Whether you're organizing a conference or festival, you want attendees to leave with great memories. And for that, they need to emotionally connect with the speakers you present.
How to choose the right speakers isn't as easy as looking up a list of "great speakers." Your conference or festival needs the RIGHT speakers, and there's an art to finding yours.
Step 1: Establish Your Goals
Every conference and festival has a goal. Perhaps you're teaching educators, or inspiring business owners. Maybe you're promoting products such as pet supplies, or supporting a great cause such as literacy. Will your event have a specific theme that you'll want your speaker to present on?
Think about the structure of your event. What will you want your speaker to do? A keynote? Workshop? Panel?
Before you look for speakers, know the must-haves for your conference or festival. And it's okay if you've got more than one. List them in order of importance and move on to step 2.
Step 2: Determine Your Budget
It doesn't matter if your conference or festival is free and open to the public or a high-ticket, for-profit event, you're going to have a specific budget for speakers. Speakers should get compensation for their work at your event. Their participation is time away from their work and family, and they'll work hard to prepare a presentation that'll fulfill your goals for your attendees.
Speaker fees will vary widely, and the more in-demand a person is, the higher their fee. However, a higher fee doesn't always mean the person is the best speaker for you. Celebrities will naturally command a higher fee because of their draw power, but many great presenters have lower fees and will be equally entertaining and inspirational.
When you're determining your budget, also factor in travel and hotel costs. If you're on a tighter budget, you can find speakers who are local.
Step 3: Profile Your Perfect Speaker
Now that you know your goals and budget, list the attributes of your perfect speaker. The definition of "best speakers" is different for each event. Some will be confident and inspiring. Others will be knowledgeable and personable. Or maybe you want someone who's kind or funny—or a mix of these.
For example, our client Ammi-Joan Paquette was invited to participate in the Books by the Banks festival in Ohio as both a literary agent and a children's book author. She shared her knowledge of the publishing industry as well as her experience writing her PRINCESS JUNIPER series.
Your goals for your conference or festival will help you decide the type of speaker you need. For example, do you want:
an expert on a certain topic?
someone who's inspirational?
someone who can teach?
someone who can interact with attendees in social sessions at your event?
someone who's good at answering questions during a panel or from attendees?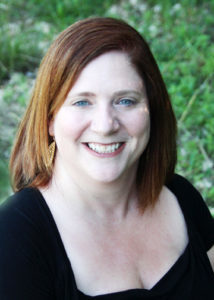 Also, think creatively about your speakers. Our client Bethany Hegedus is a children's book author, but her GRANDFATHER GANDHI series co-written with the Mahatma's grandson Arun Gandhi speaks of peace and love. Bethany has spoken on these topics to churches and at other events, as well as to children and educators on reading and writing.
Once you know the type of speaker you're looking for, you can start step 4.
Step 4: Do Your Research
A good place to start your search is, of course, the great wide Web. Search for speakers on the topic you need and create a list of possibilities. You can also look at authors of books on your topics, TED Talk speakers and teachers at the graduate level.
When you have some names, look further. Read their books and testimonials, find interviews with them, watch videos that feature them, and scroll through their interactions on social media.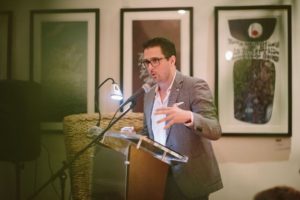 If you're lucky, your first choice speaker might be someone like our client author Pablo Cartaya (THE EPIC FAIL OF ARTURO ZAMORA), who has a professional acting background. He uses his experience to make his presentations energetic and fun.
Authors Molly B. Burnham (TEDDY MARS series) and Janet Fox (THE CHARMED CHILDREN OF ROOKSKILL CASTLE) are former teachers, so they use that experience in their presentations and workshops, both for young readers as well teachers and librarians.
As you go through these materials, evaluate each person against your profile to find the best matches for your conference or festival.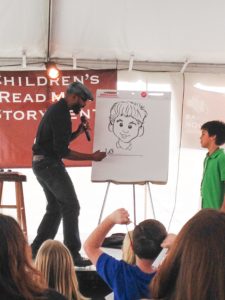 Of course, this research requires a lot of work. A short cut is to contact agencies like The Booking Biz to get recommendations that will fit your needs. After our author/illustrator client Don Tate (STRONG AS SANDOW) presented to students at Golbow Elementary's Author's Day, librarian Melinda Webb reached out to us for recommendations for their 2017 Author's Day, booking more of our clients for that event.
Step 5: Book Your Speakers, Then Have a Great Event!
Congratulations, you've got a list of wonderful potential speakers. Compare them against your budget and narrow down the list to your top choices. Contact information will be on their website or through their speaker agency.
In your invitation, tell them the dates and location of your conference or festival. Also, be upfront about what you'd like to them to do and your budget. From that starting point, you and the speaker or their agenct can negotiate.
Be prepared for your top choice to turn you down if they're too busy or unable to meet your budget needs. Everyone's time is precious. If that happens, no problem. Politely thank them and invite the next person on your list.
Remember, there is no perfect speaker for any one event. A number of speakers will be able to help you achieve your conference or festival goals. And if you really want to attract speakers, hold amazing events that get great buzz and treat everyone well. Then you'll have speakers coming to you.
If you'd like help booking speakers for you conference or festival, contact us.