Best-selling children's book author/illustrator Salina Yoon knows what it means to create an entertaining and inspirational experience for students during an author visit, but she says the success begins with the school.
We're thrilled to have this guest post by Salina Yoon for this month's tips. Take it away, Salina…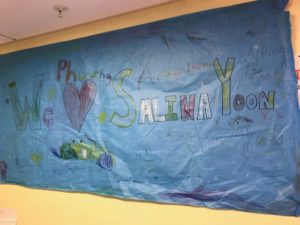 Maximize the experience of school visits with:
Author Study
Build anticipation with student participation (welcome banners, letters to the author, write a book, or illustrator-inspired art)
Signed books
I believe that half the success of a school visit starts with the school itself and preparing for the visit. The Brooke Charter in Boston did all the right things for my recent visit, and it absolutely made a difference.
Remember—welcoming an author to your school like a rock star is NOT for the author. I mean, it's so nice—and we love it of course—but building anticipation is a big part of building up to the event.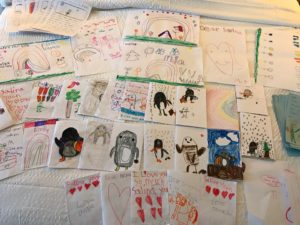 If students know the author's books, they will get so much more out of the presentation, plus have good questions to ask.
The Brooke Charter purchased a book for every student who attended the presentation. (180 kids/books) I signed each one. Signed books are treasured—especially after a visit.
Obviously not all schools can do this, but they can make the books available for purchase in advance for parents to buy, or have the books available at the library for kids to check out.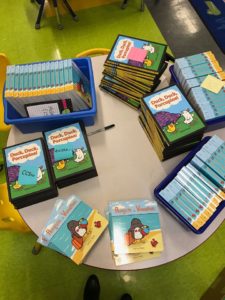 And each presentation at Brooke Charter was done for just 60 kids… which is incredible!
Small group sizes make the visit that much more special and intimate (for kindergarten especially).
Well done, Brooke Charter! This was even their first author visit ever. I give them an A+!
Thanks, Salina! We agree; the preparation from the school is vital to the success of an author visit. Children gain so much more from the experience if they've been involved from the beginning.
If you need help funding an author visit for your school, read our "21 Ways to Fund Author Visits" article.
Contact us to book your own visit with Salina Yoon. Learn more about this author/illustrator on her speaker page.