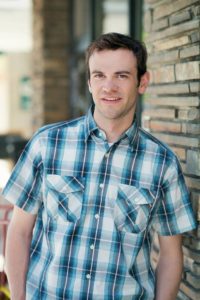 Magical mops, strange creatures and janitors? Author Tyler Whitesides' fun and adventurous middle-grade series JANITORS was called an "entertaining ruckus" by Kirkus Reviews. And Tyler's presentations thrill kids as much as his books. But what does Tyler do when he's not playing in fictional worlds? Read on to find out…
Booking Biz: What does your average day look like?
Tyler: I'm not a morning person, so I feel very accomplished if I start writing by 10am. I might answer some emails before that, but I've found that it takes a while before my creative juices start flowing. Once I begin writing, it's sometimes hard to stop. I've been known to skip lunch (rather, I'm not even aware that lunchtime has come and gone). It can be hard to pull myself out of the writing at the end of the day. It takes a good hour for my brain to return to the real world after my fingers leave the keyboard. If the writing is going really well, I'll often start into it again around 11pm and write into the wee hours. That describes my typical day when I'm writing the rough draft of a story. My schedule lightens up a bit when I'm editing. I've found that it's easier to pop in and out of the edits.
Booking Biz: When you're not writing, what do you like to do best?
Tyler: Living in northern Utah, I spend as much time in the mountains as possible. You might catch me skiing or ice fishing in the winter. I love to go hiking and camping. My biggest outdoor passion is fly fishing the mountain streams and rivers near my house. To counterbalance the quiet serenity of the mountains, I'm also a percussionist. Between writing you might find me playing the drums or the marimba (basically an overgrown xylophone).
Booking Biz: Where do you get the inspiration for your books?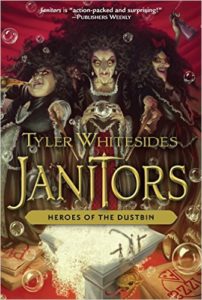 Tyler: I get inspiration from the real world around me. The ideas for my JANITORS series came while I was working part time as a middle school night custodian. My upcoming book, THE WISHMAKERS, came to me while making a peanut butter sandwich. What if there was a genie living inside this jar of peanut butter? I think inspiration is all around, and I love to search for it among the everyday routine.
Booking Biz: Did you always want to write books for children, or was there another career you wished for as a child?
Tyler: I've wanted to be an author since I learned how to read. I've found little stories that I had written as far back as 2nd grade. This has been a lifelong dream for me, and I'm thrilled to be writing books for young readers.
Booking Biz: If you ruled the world, what would it look like?
Tyler: Well, I don't think much would get done, if I ruled the world. I'd want everyone to pursue (and be successful at) their hobbies. I'd have a hamburger and fries every day for lunch. Also, life would be a musical. Yeah. People would spontaneously break into song and dance. Ha!
Ready your vocal pipes, everyone! Learn more about Tyler Whitesides' books and presentation on his speaker page.