Our clients are rocking children's literature and helping to change the world. From new acquisitions, to starred reviews, to appearances and teaching engagements. Have a look…
WORKSHOPS AND APPEARANCES
And author Pablo Cartaya is in demand! He will be speaking at the Summer Conference of the Society of the Children's Book Writers & Illustrators in Los Angeles July 7-10 and at the International Literacy Association Conference in Orlando July 15-17.
NEW BOOKS AND ACQUISITIONS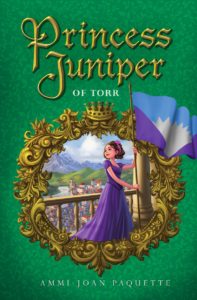 Ammi-Joan Paquette's final book in her middle-grade Princess Juniper series hits shelves on June 6. Adventure abounds in PRINCESS JUNIPER OF TORR, when Juniper gets help from friends, secret spy cats and even a dragon to save her father, the palace and their whole country.
On June 13, Melanie Crowder's historical YA novel AN UNINTERRUPTED VIEW OF THE SKY will be in stores. In the book, modern history is unearthed as a boy becomes an innocent victim of corruption in the underbelly of Bolivia's crime world, where the power of family is both a prison and the only means of survival. The novel has received multiple starred reviews, including one from Publishers Weekly. PW wrote, "Crowder (Audacity) delivers a disturbing portrait of innocent families trapped in corrupt systems, as well as a testament to the strength of enduring cultural traditions and the possibility of finding family in the unlikeliest places."
Also, look out for more from Melanie Crowder as Atheneum has bought her new middle-grade fantasy adventure series LIGHTHOUSE BETWEEN THE WORLDS. The first novel tells the story of twins who stumble upon a secret society tasked with protecting humanity from nightmares.
AWARDS AND STARRED REVIEWS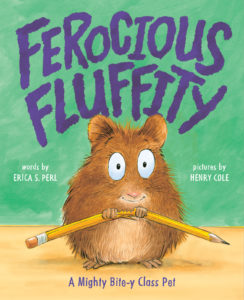 Erica S. Perl's FEROCIOUS FLUFFITY (illustrated by Henry Cole) was selected for the 2017-2018 Sunshine State Young Readers Award Junior List (SSYRA-JR) in Florida.
Melanie Crowder's young adult novel THREE PENNIES was praised on popular website All the Wonders. The novel was called "fantastic" and described as "a beautifully written and gentle book about finding family."
Pablo Cartaya has received his third starred review of THE EPIC FAIL OF ARTURO ZAMORA. This one is from Publishers Weekly, which says: "In addition to Arturo's funny and candid narration, Cartaya's storytelling features Twitter exchanges, script-style dialogue, letters from Arturo's deceased Abuelo, and poetry by activist José Martí; the dialogue smoothly shifts between English and Spanish, and readers unfamiliar with the latter should have no trouble using context to discern words and phrases they don't know." The book was just released this week. Read a transcript of a chat with Pablo Cartaya on the Penguin website.
Finally, Happy Belated Mother's Day for all the mothers who share books with their children. In celebration of mothers, here's a special video for Audrey Vernick and Liz Garton Scanlon's humorous picture book BOB, NOT BOB: *TO BE READ AS THOUGH YOU HAVE THE WORST COLD EVER.
Congratulations to these amazing writers on their continued success. We can't wait to see what they'll do next.
Want to book one of these authors? Learn about these and all our clients on their speaker pages.