You and your students can discover new, fun worlds and characters in our clients' upcoming books. But don't take our word for it. Check out all the starred reviews and awards…
NEW BOOKS WITH STARRED REVIEWS COMING IN MAY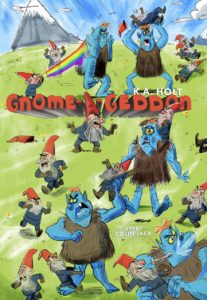 The first in K.A. Holt's fantasy series GNOME-A-GEDDON releases May 2, 2017. In a starred review from Booklist, readers are asked, "What if the world of your beloved fantasy series turned out to be real? And what if you and your best friend were transported there to rescue the author and fulfill an ancient prophecy by saving its peaceful gnomes from evil trolls?" Follow characters Buck and Lizzie through this middle grade fantasy.
Melanie Crowder's THREE PENNIES received starred reviews from School Library Journal and Kirkus. Told in alternating perspectives, Booklist described this book as: "An owl watches as 11-year-old Marin, a hatchling of sorts, finds her way out of the foster care system and into the home of the successful and open-hearted doctor, Lucy." This heart-warming story releases May 2, 2017.
Pablo Cartaya's THE EPIC FAIL OF ARUTRO ZAMORA received a starred review from Booklist saying, "Cartaya's lively debut, filled with kind, dynamic characters and interspersed with letters, poems, and Twitter messages, offers a timely tale of a community steeped in tradition and multiculturalism, working together against encroaching gentrification, and Arturo's inviting first-person narrative is the perfect entry point for middle-grade readers." Both the printed and audio versions (audio recording by actor and author Pablo Cartaya, himself) of this book will be released on May 16, 2017 and included in Scholastic book magazines!
AWARDS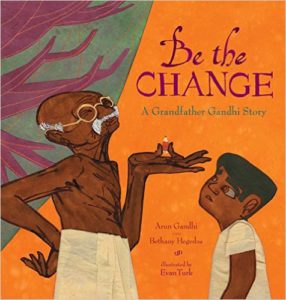 Congratulations to Kwame Alexander for winning the Oklahoma Library Association's 2017 Sequoyah Children's Book Award for THE CROSSOVER.
HOUSE ARREST, by K.A. Holt, also is a winner, of the Mississippi Magnolia Award, a Children's Choice Award from the state.
Picture book biography BE THE CHANGE: A GRANDFATHER GANDHI STORY, written by Bethany Hegedus and illustrated by Evan Turk, has been short-listed for the Green Earth Book Award by The Nature Generation. We're thrilled that they've recognized this amazing, world-changing book.
MORE LISTS AND STARRED REVIEWS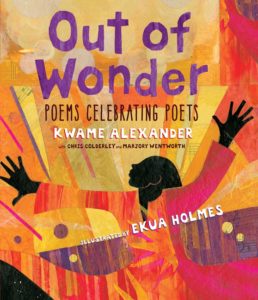 The picture book OUT OF WONDER: POEMS CELEBRATING POETS, written by Kwame Alexander, Chris Coderly and Marjory Wentworth and illustrated by Ekua Holmes, has made the New York Times bestseller list.
TWO TRUTHS AND A LIE: IT'S ALIVE! by Ammi-Joan Paquette and Laurie Ann Thompson is a fall 2017 Junior Library Guild selection! "This nonfiction book presents some of the most crazy-­but-true facts about the living world, as well as a handful of stories that aren't true—and asks kids to discover which are which!"
David Elliott's new young adult novel-in-verse novel BULL has now received a whopping SEVEN starred reviews! They're from Publishers Weekly, Kirkus Reviews, Booklist, BCCB, The Horn Book, Shelf Awareness and School Library Connection. Don't miss this amazing book and have David visit your school to talk about it.
Also shining with a new starred review is BOB, NOT BOB! *TO BE READ AS THOUGH YOU HAVE THE WORST COLD EVER, written by Liz Garton Scanlon and Audrey Vernick and illustrated by Matthew Cordell. The humorous picture book earned a starred review from Publishers Weekly, which wrote, "This is read-aloud gold!" We agree!
APPOINTMENTS
Also big congratulations to Kwame Alexander on his appointment to the Society of Children's Book Writers & Illustrators board of directors. He will help to continue to help other children's book creators bring more brilliant books to shelves.
To find out more about this amazing authors and illustrators and bring them to your event, contact us.