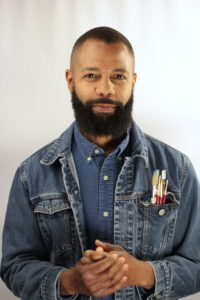 The latest client in The Booking Biz family probably needs no introduction. Javaka Steptoe has been a renowned and celebrated author/illustrator since his career in children's books began.
Javaka's debut picture book, IN DADDY'S ARMS I AM TALL: AFRICAN AMERICANS CELEBRATING FATHERS, won the Coretta Scott King Illustrator Award. The book was also nominated for Outstanding Children's Literature Work at the 1998 NAACP Image Awards.
That was just the beginning of Javaka's accolades. His latest book, THE RADIANT CHILD: THE STORY OF YOUNG ARTIST JEAN-MICHEL BASQUIAT, won the Caldecott Medal. The picture book biography also won the Coretta Scott King Illustrator Award and earned multiple starred reviews.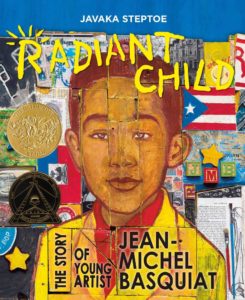 Javaka's talent runs in his family. His father, the late John Steptoe, was also an artist and educator. As a child, Javaka was the inspiration for much of his father's work.
Today, Javaka uses such everyday objects as a jigsaw, paint, pocket lint and more, to create collages filled with playful energy and strength.
He's also committed to children's education, using art to boost critical thinking and self expression.
Javaka does readings, keynotes and workshops at festivals, schools, libraries, museums and more around the world.
Learn more about artist and educator Javaka Steptoe on his speaker page.