You know the wonderful benefits of having authors at your schools, libraries and events. You've seen the smiling faces of both children and adults who are inspired by what they hear. But what about the results?
Here are 10 amazing things that happened because of an author visit by one of our clients.
 1. Engaging with Children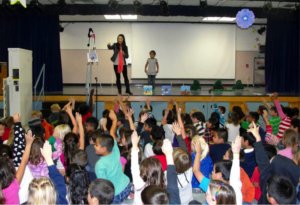 Some children find it difficult to connect with even those who are closest to them. But characters in books can reach those children, and the authors who created them become instant friends. This happened when Salina Yoon visited the Pilgrim School in California. Says Pilgrim School's Kris Williams, "One little boy, just 4½, probably [with] Asperger's, connected with Dennis (mime character) like it was his own story and could talk of nothing else. [Salina Yoon] really touched him and made a difference in his life! That is what I live for with author visits."
2. Book Recommendations
Every teacher has had those students who are reluctant readers, but seeing an author talk about their work with passion can change their minds.
 3. Helping Students Learn
No matter how hard students try, some subjects seem insurmountable and they don't know why—until an author says they have the same problem. That happened when David Elliott visited Sommer Elementary in Texas. Teacher Ms McCarthy says, "I have a student who picked up on David Elliott's comment, 'Sometimes writing is harder for people who love writing…they want to say it perfectly!' My student realized this was HIS difficulty also. My student could not clearly communicate his frustrations—he just crumpled his paper and threw it in the trash. I thought my student didn't care for writing at all—turns out he just needed another author to express this for him!"
 4. Building Confidence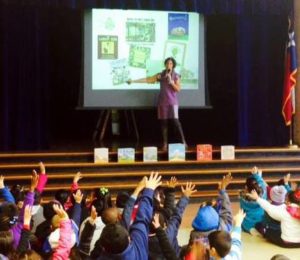 Poetry can be a difficult topic for students to grasp and for teachers to make fun. But author Liz Garton Scanlon changed that at Zilker Elementary in Austin, Texas. Says Zilker's Judi Thompson, "I can't praise Liz Garton Scanlon enough for the transformation she created in my fifth grade poets. Her natural teaching ability and engaging workshops inspired my students to create amazing poems. Students who were reluctant writers gained confidence and pride. AND, as a teacher, I gained confidence in my ability to teach poetry more effectively."
 5. Helping Children Understand Themselves
In preparing for an author visit with Bethany Hegedus, a librarian at Macedonia Elementary in Georgia read Bethany's picture book biography GRANDFATHER GANDHI to the class. An autistic fifth grader was so touched with the book's message of being the light, he identified times that he had been angry at school. He spontaneously stood and apologized to his classmates for his actions. What a thrill it was for that child to meet the author who touched his heart.
 6. Connecting to Curriculum
Haslet Elementary librarian Steffanie Joseph had an author visit with Dianne de Las Cases and said she, "had all the students singing, clapping, snapping and moving to her stories—even our fifth graders!" But perhaps the best part for Ms Joseph came after the author visit: "There are so many ways that you can connect her stories to the curriculum. For example, we used her CINDERELLAPHANT coloring sheet to do character traits with first grade. Our teachers are also excited to use THE LITTLE 'READ' HEN as a supplement to teaching the writing process."
 7. Inspiring Children to Action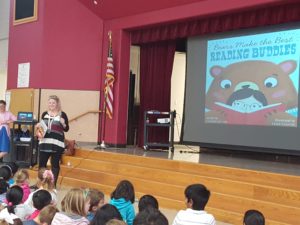 After picture book author Carmen Oliver did an author visit to Sommer Elementary with her BEARS MAKE THE BEST READING BUDDIES, one child was so inspired that he wrote his own book to read to the class.
 8. Bringing History to Life
Rabbi Mary L. Zamore had author Meg Wiviott talk to her congregation about the difficult topic of the Shoah. "Meg created a surprisingly uplifting morning as she inspired us to think deeply and fall in love with her books," Rabbi Zamore says.
 9. Teaching Teachers
Teacher Ann Angel took a workshop with author Liz Garton Scanlon and says, "Her experience and knowledge filled pages of my notebook, and I came away with the greatest reading list on picture books, middle grade novels, literacy and craft."
 10. Reinforcing Teacher Lessons
During a visit to Sommer Elementary in Texas, author David Elliott talked about the writing process and how much work it takes to create something beautiful. Sommer Elementary teacher Ms McSween saw the results when, "While working on our published pieces, a student reminded the others, 'It takes time to make [writing] better, just like the author (David Elliott) said.'" Wise student.
What experiences will your students and attendees have at your next author visit?