Two new books are coming from our clients this month. Also, Kwame Alexander is on a podcast, Cynthia Levinson is in The Horn Book, and much more. Read on…
Interviews and Accolades
K.A. Holt's HOUSE ARREST is on Virginia Reader's Choice Middle Grade Reading List 2017-2018! This brings House Arrest's state reading list total up to 12. This powerful novel in verse has also been included on Chicago Public Schools' Battle of the Books list!
THREE PENNIES, by Melanie Crowder, has received another starred review. School Library Journal says of the book: "This tender tale of human frailty tugs at heartstrings and will satisfy tweens who like to read with a tissue handy."
Cynthia Levinson's THE YOUNGEST MARCHER continues to get lots of attention, including The Washington Post listing it in "best books for raising activist kids," and The Horn Book asking "Five Questions for Cynthia Levinson."
And Kwame Alexander was interviewed for website Poetry Tea Time's podcast series. Listen to the Brave Writer podcast here!
New Books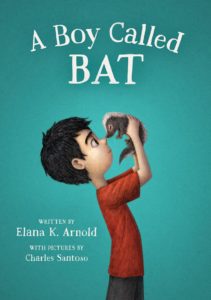 The picture book RAISIN, THE LITTLEST COW! (Harper Collins) is out March 28. The picture book is the second co-created by author and illustrator duo Miriam Busch and Larry Day. RAISIN is described as, "An irresistible sibling story about Raisin, the littlest cow on the farm, and what happens when she gets a little brother."
Elana K. Arnold's A BOY CALLED BAT, releases March 14. Also published by Harper Collins, BAT is "the first book in a funny, heartfelt, and irresistible young middle-grade series starring an unforgettable young boy on the autism spectrum."