Acclaimed author Elana K. Arnold has delighted children and teens with her wonderful books, as well as the young-at-heart adults who read them too. We wanted to find out how Elana created characters like Iris Abernathy of THE QUESTION OF MIRACLES, Odette of FAR FROM FAIR, Sephora Ganding of INFANDOUS and many others. Here's what she said:
Booking Biz: What does your average day look like?
Elana: Here's the thing: I work from home. I homeschool my two kids. I am the caretaker of a sheepdog, a yorkie mix, two hairless cats (one with chronic intestinal issues—use your imagination), a gold-capped conure, and two baby tortoises. One of my kids is a picky vegan. The other is a purple-haired teenage boy. There is no such thing as an average day.
Yesterday was Monday. I stripped my bed because the Yorkie mix (Penelope) was feeling lazy and peed in it; I read Act III of The Miracle Worker with my daughter (the vegan) and helped her with a list of vocabulary words and critical reading questions; I scooped litter and drank coffee (not at the same time); I drove my daughter and her friend to gymnastics and then went to lunch with my purple-haired teenage boy, dragging him afterward to the grocery store, where we discussed the pros and cons of the nose ring he is currently considering; I organized for a social action group I host at my house once a month; I played cards with my friend Erin, my husband, and our kids; I led the meeting; I remade the bed at 10pm; I watched two episodes of 30 Rock and fell asleep.
Today is Tuesday. I took my daughter to her classes (she goes to a charter campus one day a week) and I holed up at Grow, a local café that doesn't complain when I sit here for five hours. I wrote four pages of a new project (woo hoo!), and I did some business-y stuff.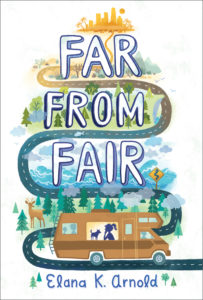 Next Friday, I will do a day-long school visit. I'll get to put on one of my fancy sweaters and my good boots. No one will be able to tell by looking at me that my closet is a tangle of discarded blouses and pants that I could swear fit me last time I tried to put them on.
I love my messy, disorganized, unpredictable life. I don't write every day, but I think about my in-progress projects every day. The only things I can count on staying the same from one day to the next are that my kids will need a ride somewhere and one of pets will do something unspeakable before dinnertime.
Booking Biz: When you're not writing, what do you like to do best?
Elana: My favorite activity these days is taking the hounds (as I call the sheepdog and the Yorkie mix) to Dog Beach. The sheepdog, Phoebe, weighs 70 pounds and moves like a Clydesdale; the Yorkie, Penelope, weighs 7 pounds and prances like a baby deer.
I call to them from the door, "Do you want to go see your friends?" They become unreasonably excited, submit to their harnesses, and bound for the car. We live in Southern California, a few miles from the ocean, so we can visit Dog Beach almost all year long.
When we get to the sand, I unclip their harnesses and watch them run. Sand shoots up behind them in joyful arcs. I smile at everyone—the other owners, the dogs. I breathe in the damp, salty air. I walk barefoot through the sand, dodging the lapping waves, stopping to pet dog after dog. I think about my kids, my stories, my friends and family, and I concentrate on how incredibly lucky I am to be alive.
Booking Biz: Where do you get the inspiration for your books?
Elana: Most of my books begin with a question, often based in my own life. For instance, when my kids were much younger, my husband and I made the decision to sell our home and most of our belongings and hit the road in an RV. It was an adventure and a growing experience in so many ways. Years later, when my kids neared adolescence, I wondered, what would happen if we had decided to take them on the road when they were 12 and 9 rather than when they were 7 and 4? Might it not have gone over quite so easily? Thus, FAR FROM FAIR was born.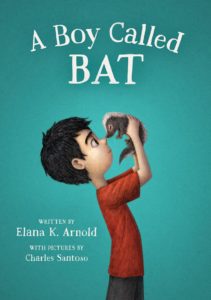 A BOY CALLED BAT is an amalgam of many parts of my life: my respect and love for the ASD community, my ongoing obsession with unusual pets, and my affection for research, to name a few. Bat's wonderful teacher, Mr. Grayson, and his wonderful school, the Saw Whet School, are modeled after my brother-in-law and the school he teaches for.
I love life. I love people. I love research and discussion and good food and warm animals plopped into my lap. There is so much, everywhere, to write about. Writing about the good things gives me an opportunity to live through them again, and writing about the sad parts allows me to make peace with the things that trouble me.
Booking Biz: Did you always want to write books for children, or was there another career you wished for as a child?
Elana: I always wanted to write; the "for children" part didn't occur to me, really. Children and adolescents interest me—they are people with specific constraints and opportunities, constraints and opportunities that I spend a lot of time thinking about, and so it makes sense that these are the things I write about. I don't actually sit down to produce a story "for children." I don't try to teach lessons or impart truths. I explore things that interest and confound me, things that make me very happy, or very sad, or very angry, and these things tend to intersect with the world that children and adolescents inhabit.
I did consider becoming a veterinarian, but was convinced by grown-ups that it would be a poor fit for me since I had a hard time with math and memorization. They were wrong, and I shouldn't have listened to them. I would be a great vet.
Booking Biz: If you ruled the world, what would it look like?
Elana: If I ruled the world, every person would be paid fairly for his or her work, and there would be no social penalty for belonging to any minority group.
If I ruled the world, children would be treated like full people at all times.
If I ruled the world, each person would have autonomy and guaranteed safety for her or his body.
If I ruled the world, no animal would suffer.
Booking Biz: That sounds like a wonderful world.