Want to know who's nominated for an NAACP Image Award? Which book is a Junior Library Selection? Who's teaching a Literacy Camp for teachers? Read our clients' latest news…
AWARDS & LISTS
Salina Yoon's DUCK DUCK PORCUPINE also won a Nerdy Book Award, for early readers and chapter books, as well as on ALA's Notable Books discussion list. And her BE A FRIEND won a Nerdy Book Award for picture books in the fiction category. Also Salina's newest book, MY KITE IS STUCK! AND OTHER STORIES, has been added to author John Schu's 2017 Great Books presentation.
Liz Garton Scanlon's picturesque picture book IN THE CANYON was awarded a 2016 Southwest Book Award.
A BOY CALLED BAT by Elana K. Arnold, the first book in a funny, heartfelt, and irresistible young middle grade series starring an unforgettable young boy on the autism spectrum, is a Junior Library Guild selection. This book is due to be released March 14, 2017. The novel also got a starred review from Publisher's weekly and Kirkus, which called it an "engaging and insightful story."
SPEAKING OF REVIEWS…
BOB, NOT BOB!: *TO BE READ AS THOUGH YOU HAVE THE WORST COLD EVER by Liz Garton Scanlon and Audrey Vernick received a starred review from Publishers Weekly stating, "With its funny, congested language ("I doan wan by bedicine") and problems every reader will understand this is read-aloud gold." This humorous picture book will be released on Feb. 14, Valentine's Day, just in time to share with your loved ones.
Elana K. Arnold's WHAT GIRLS ARE MADE OF, a 14-year-old girl's journey to determine the conditions of love, received a starred review from Kirkus, describing the story as, "Unflinchingly candid, unapologetically girl, and devastatingly vital." This YA book is due to be released on April Fool's Day 2017 (no fooling!).
OUR CLIENTS TEACH WORKSHOPS…
Children's and young adult author Lindsey Lane is teaching a new class at the Writers League of Texas on Feb. 18. "The Craft of Short Fiction: Telling the Story With Fewer Words and More Punch" shows beginner to advance writers how to build a strong narrative arc, use dialogue to advance plot and reveal character, use details to being the setting to life and create a balance between action and exposition—all in a short story.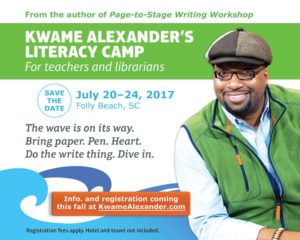 And Newbery Medal-winning poet Kwame Alexander is teaching a Literacy Camp for educators in Folly Beach, South Carolina, July 20-24. Kwame and his faculty will help teachers and librarians build students' creativity and boost excitement for writing and reading.
Learn more about these and all our clients on their speaker pages.