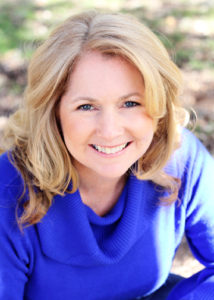 It's easy to see that Donna Janell Bowman thinks kindness is important. Her debut trade picture book biography, STEP RIGHT UP: HOW DOC AND JIM KEY TAUGHT THE WORLD ABOUT KINDNESS, shows the power of love in the most amazing way—a formerly enslaved person teaching a horse how to spell without a whip or a harsh word. The book earned three starred reviews and is a Junior Library Guild Selection. Donna's next two picture book biographies tell more amazing stories of amazing people, like Abraham Lincoln and the tightrope walker known as The Great Blondin.
Now, let's hear from Donna:
Booking Biz: What does your average day look like?
Donna: By nature, I'm a night owl cursed with an early-bird brain, which is very inconvenient on those lazy Saturday mornings. On an average work day, I check email, catch up on a bit of reading, and take stock of my to-do list before my teenager awakes and signals my simultaneous breakfast/lunch preparations. Once I drop him off at school, I go to the gym (not often enough) and walk the dog (always), and make note of the ideas that come to me. Then I grab a shower, reach for my big ole cup of ice water or tea and get to work. I always seem to have revisions and new projects in progress, or marketing duties awaiting me. Here's a fun fact/quirk/very weird habit: I pull my hair into a ponytail before I start writing. I don't know why, but it has become a subconscious signal that my workday has begun.
I write until it's time to pick my son up from school in the afternoon, then I try to switch to family mode, but I can't help but return to my writing projects when Kiddo is involved with friends, sports, or homework.
Booking Biz: When you're not writing, what do you like to do best?
Donna: I love camping, hiking, kayaking, visiting my family's old horses—anything outdoorsy, really. I also love going to movies. Gosh, it'd be great to get back to theatrical productions, too. And I'm my son's biggest fan at his various sporting events.
Booking Biz: Where do you get the inspiration for your books?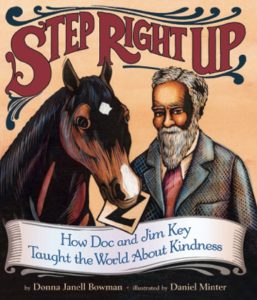 Donna: Much of that depends on the particular book. When an educational publisher proposes a book to me, as Capstone did with my American Indian books and the horse books, that's one kind of inspiration.
My trade books are always inspired first by something I read or hear about, and then they are sustained by something that resonates personally with me. Step Right Up was definitely inspired by, not only Doc's message about kindness, but also by my own history with horses and other animals. A piece of my heart is in that book, as it is with my other books, in various forms.
For my forthcoming En Garde! Abraham Lincoln's Dueling Words (Peachtree, 2018), I had stumbled upon a one-line mention of Lincoln's duel while researching for another book. The idea that Lincoln, perhaps our most iconic and sanitized President, did something naughty, but learned from it, spoke to me. Lincoln was human—go figure! For King of the Tightrope: When the Great Blondin Ruled Niagara (Peachtree, 2019), I got the idea from a PBS Niagara Falls special that played in the background while I was making dinner one night. As with Lincoln, there was a tiny blip of a mention—a nano-second about Blondin's outlandish feats, engineering prowess, and never-give-up spirit—and I immediately went to search Google. Even my fiction projects are inspired by something that moves me, or something that intrigues me.
That's all probably a more long-winded answer than you were looking for. In a nutshell, ideas are everywhere. They find me. If they resonate with me, I capture them, mix them with the right ingredients, and pour them out as words.
Booking Biz: Did you always want to write books for children, or was there another career you wished for as a child?
Donna: This question makes me giggle, because when I was a kid, I was a multi-dreamer. I wanted to be a veterinarian, a horse trainer, a princess, The Bionic Woman (yes, I just admitted that) and a writer. My elementary school didn't have a library. Instead, we looked forward to visits from the Book Mobile, which amazed me. And I loved movies! I fantasized about writing screenplays. My parents recognized me as a budding writer, so they gave me a typewriter when I was about ten years old—much to their chagrin some nights.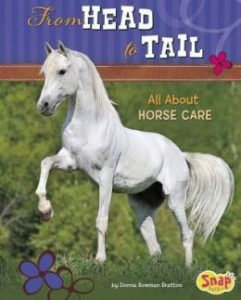 I didn't consider children's books until I was immersed in them as a parent. I read to my kids a lot! By the time my second son was born, I had left the corporate world and knew exactly what I was meant to do. My long journey toward publication began then.
Booking Biz: If you ruled the world, what would it look like?
Donna: Donna rules the world! Mwahaha!
In Donnaland, we would all live in tree houses with interconnected rope ladders. (At least, I would.) There would be no wars, no violence, no poverty, no socks with sandals. Everyone would be kinder to the planet and to each other. We would all grow up, but never grow out of childhood wonder and play. Ice cream would be healthy, chocolate would be mandatory, and watermelon would always be in season. Five-day weekends would allow more time for stories, and laughter, and time with others. Editors would always love my manuscripts, and my books would reach just the right readers.
Booking Biz: Now that's a world we'd like to live in! Thanks for your insights, Donna.