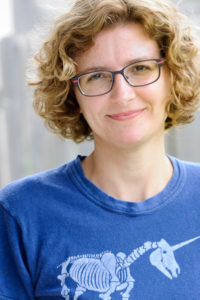 Award-winning children's book author K.A. Holt has a way with words, especially for middle-grade readers. Her stories are told in both prose and poetry, with her novel-in-verse HOUSE ARREST a 2016 contender for the Global Read Aloud award. She even has a novel told in haiku, BRAINS FOR LUNCH. Her characters have adventures in space, on another planet, with zombies and even in regular homes, just like her loyal readers. We're excited to get to know this imaginative writer more…
Booking Biz: Where do you get the inspiration for your books?
K.A.: My inspirations comes from everywhere! My own life, interesting news tidbits, questions my kids have asked me… I find that inspiration is everywhere if you can somehow stop the rough and tumble parts of your day, take a deep breath, and really listen to what's going on around you.
For my most recent novel, RED MOON RISING, I had read a very interesting article in Texas Co-op Power Magazine about children in Texas who had been kidnapped by Comanche at the turn of the 20th century. I wondered how that story might play out in a completely alien world, and so I kicked around ideas for several years before I found Rae's voice.
HOUSE ARREST, though, was completely different in where it came from. My youngest son was born with subglottic stenosis and the first few years of his life were very precarious. It was a difficult time for him, for me, for our family, and I knew I'd need to write about it some day. While the book is fiction, a lot of things Timothy says and does and feels are things I wish I could've done. Of course, a mother isn't necessarily going to steal money or punch a hole in a wall, but those are things I thought about, and so Timothy serves a kind of outlet for my Id—for the Id of anyone faced with tough circumstances and who doesn't want to let life squash them.
Both of these books come from very different places, but I loved writing them. It's always amazing to me where the genesis of an idea comes from.
Booking Biz: What does your average day look like?
K.A.: My average day is basically: struggle to wake up and get the kids to school (we call this Morning Night. Why does school start so early?!), come back home for an hour nap, coffee, writing, writing, writing*, thinking, thinking, thinking**, pick kids up, struggle to do more writing and thinking, dinner, crash out in front of bad TV/read same paragraph in famousy book over and over again.
* often, writing includes agonizing over writing, not actually writing, and despairing
** often thinking includes wondering if I will ever finish another book, worrying that current book is terrible, trying to remember the things I should be doing that I am not doing.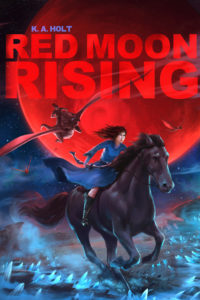 Booking Biz: When you're not writing, what do you like to do best?
K.A.: When I'm not writing, I enjoy reading. Are those too similar? When I'm not writing or reading, I enjoy talking about books. Again, too similar? Hmm. Favorite non-book-related thing? Basking in the sand on the beach, reading– Oh, I am just a basket case. 😉
Booking Biz: If you ruled the world, what would it look like?
K.A.: I'm not sure I would like to rule the world. Seems very stressful and way too complicated. I would rather whisper in the ear of the ruler. I want to be the puppetmaster! While I am the puppetmaster, I will make sure the ruler does everything she can to make people happy. Random acts of kindness are mandatory in my world!
Booking Biz: We couldn't agree more!
Learn more about this amazing author on her speaker page.